I like to consider myself an connoisseur of crappy movies. Among the many genres is
the awful motorsports film
. You've seen them,
Biker Boyz
,
Tokyo Drift
,
Redline
. The list goes on. But how do you know what to rent? I propose
a rating system
, and have thusly scored several such movies. Further, I have enlisted the critical talents of
Erik
as the Gene Siskel to my Roger Ebert (as well as system coauthor).
The rating system:
Rides - We're not watching these movies for plot or acting, it's eye candy we want. What can kind of hardware can a Hollywood budget score?
Authenticity - Are the action scenes pretty down to earth (like riding the Y2K through downtown LA at 200mph) or are they just ludacris* (like jumping cars over a drawbridge)? Just as important, this indicates the feasibility of the plot. For instance, is there really an underground ring of drivers that race expensive cars for the pleasure of media tycoons?
Girls - We're not watching these movies for plot or acting, it's eye candy we want. What can kind of hardware can a Hollywood budget score?
One Liners - This is the true takeaway value of these films. Being able to drop, 'It's not how you stand by your car, it's how you race your car.' in the clutch not only makes you look cool, but spreads the movies' values to an unsuspecting audience.
Action Sequences - Realness aside, how entertaining are the races/fights/stripteases?
Star Power - Is there a proverbial Samuel L. Jackson to the movie's Snakes on a Plane?
We'll start with the modern classic and an inspiration to most recent car movies for better or - who am I kidding - worse...
The Fast and the Furious (8) CR
Rides (9): This movie introduced America to the glorious, brightly-colored, unnecessarily-decaled world of import racing. It was both groundbreaking and agonizing and for both those things it deserves credit. Underneath the plastic were some fantastic automobiles. Snubbing the Ferrari and praising the Dodge made for entertaining car-meos.
Authenticity (7): It was a beautiful age before cg took over. Sure Civics can't drive under trailers and the LA race scene isn't quite so glitzy. But the liberties taken with physics seemed to compliment the action rather than constitute it.
Flesh (7): Fiery, beautiful, but ultimately just an accessory to the plot.
One Liners (10): Where do I begin? So many hilarious quotes thanks to clever and/or clueless writing. 'I said a ten-second car, not a ten-minute car.' 'If you want time, buy the magazine! ' 'Hey man, you should be going to MIT or something?' 'You never had me - you never had your car... Granny shifting not double clutching like you should...' 'They call me Hector. Gotta last name too, but I can't pronounce it.'
Action Sequences (7): The pursuits provide some refreshing real driving to contrast the upshifting motages they call drag races. Still, highly entertaining all around.
Star Power (7): Vin gets retroactive star points on this one. I'm also going to give Paul Walker benefit of the doubt and assume his 'acting' was meant as an homage to Keanu's portrayal of his character in Point Break.
Erik
?
The Fast and the Furious
(7.46)
EA
Rides (9): Big score for the muscle cars, supercars, literbikes, dirt bikes and the copious rice. It wasn't just a Civic parade (although what ricer movie could leave them out?), and had a nice mix of modified domestics and JDM exotics. Really too bad they killed the Charger. It looked good, but I would have preferred they crashed a shell rather than a pristine piece of Detroit history.
Authenticity (5): Although I don't have a stand-alone fuel system with a 300 shot of NOs, I'm pretty sure they don't behave like that. I could be wrong. And really – the floor pan falls out? [Ed: Danger to manifold, duh!] Credit is due for actually trying to portray moving engine parts during a race and at least showing off the shiny pieces during the build scenes. Of course the ten second drag races lasted eight minutes, but anyone who has watched actual drag races knows how boring they would be to show realistically. Points lost here go to 'rides' and 'action sequences'. And really, there must be better (if not more boring) ways to steal cargo trucks.
Flesh (7): Probably higher if you ask the ladies - I hear Vin swooned over now and then. But I have to score it as I see it. Beautiful and somewhat believable.
One Liners (9.8): Only missing 0.2 so that someday, someone can top it. 'I live my life a quarter mile at a time, and for those ten seconds or less...' 'You almost had me? You almost had your car.' Only the Big Lebowsky, Super Troopers, and Office Space are quoted more often in my everyday speech.
Action Sequences (8): Highly entertaining, if not always realistic. Big points for real cars, real drivers and real stunts.
Star Power (6): Riddick can drive real good.
Review two: the quintessential drifter movie...
Initial D (7) CR
Rides (7): The Tofu Car! Classic JDM street racers, but lacking a few favorites.
Authenticity (7): Sure our hero drifts like mad without spilling his beverage, but far more believable than anything from Hollywood. And as far as I know that is exactly how high school is in Japan - street racing, child abuse, prostitution, and discovering your father's dark past.
Flesh (7): They're cute and have a more than passing interaction with the characters and racing theme.
One Liners (6): Subtitles and racer talk are a good combination, but maybe some cleverties are lost in the subtitles.
Action Sequences (8): The races are good and plenty, the camerawork compliments it very well.
Star Power (-): Initial D gets a walk because it's foreign.
Initial D
(7)
EA
Rides (7): Until my parents sold our Toyota Hatchback in 1992, I was ashamed to be seen carted around in it. It wasn't an AE86, but until seeing Initial D, I never really appreciated the appeal of 80s Japanese Econobox Fury. The EVOs and GT-Rs made for interesting adversaries, and a good dose of rotary power was included to satisfy the Wanke(l/r) crowd. Points off for some glaring omissions (Supra, Chaser, Fairlady, etc) but they put in a Sylvia, so I was satisfied.
Authenticity (8): For those who would cry foul, it is totally believable that a good driver who knows the course could beat a superior car on a twisty road. Anyone who begs to differ can challenge Ian at Suzuka in GT4 and get taken to school. The car references were mostly right, the engine and suspension shots believable. The characters were a little hard to gauge - as with anything dubbed - but I can believe an alcoholic Tofu-maker who gave up on racing would come around and support his son in the unofficial and unsanctioned championship of the five hairpins. But my dad never would have bought me a Supra race motor to drop in our hatchback.
Flesh(5): If the prostitute is worth 30,000 they must not be talking dollars.
One Liners (7): The best are by fathers in reference to their sons. 'What's his problem, maybe he's gay…' 'It's a totally different car, only an idiot like my son would get conned into buying a piece of junk like this.'
Action Sequences (7): Entertaining and suspenseful without being over the top or (too) predictable.
Star Power (Shi.Roku): No one I recognized, but strangely enough they all looked familiar (re: same) to me, so they must have some kind of notoriety.
Last night was movie night, we watched...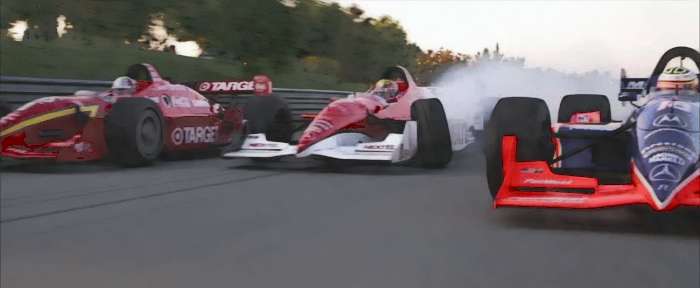 Driven (5) CR
Rides (6): Indycars and more indycars. Watching them on the track filled me with feelings of lust, but the action scenes are rife with cg, unnecessary crashes, and shots of the drivers' helmets. A Fort GT or Vector W wouldn't have hurt matters in lieu of deeper racing scenes. Bonus points for the three seconds of a semi-opaque Ducati SS.
Authenticity (5): What struck me was that none of the characters shapes up to be the one-dimensional archetypes I expected. That aside, very little of the action is believable but takes itself quite seriously.
Flesh (5): The female characters of Driven are nothing more than homely window dressing. One contributes to the plot by being 'just another distraction' to the racers. She could have been seamlessly swapped out for a drug addiction or money problems. Sly's girl announces that she addressing sexism in motorsports and proceeds to stand in the background for the remainder of the film. Whoops. With the time allotted to dead-end characters they could have easily added a Danica personality or a sister who needed the championship money to pay off the mafia or something.
One Liners (3): Very disappointing given the screenwriter starred in such quotefests as Rocky and Judge Dredd.
Action Sequences (4): Clean race count: zero. Now I like crashes as much as the next guy, but really? Does Driven need a crash in every race to keep the audience's attention? Each outing starts out so well - amazing panoramas of the venues, intriguing twists such as injuries and weather, clean starts. But they quickly collapse into a series of poorly-rendered crashes trying to outdo the last. C'mon, it's Driven, not Crashin.
Star Power (8): Sly sells 'washed up' and 'underdog' very well, when the humming begins he loses his bid for 'driver' - though I imagine this trait is based on a real racing figure. Burt Reynolds is pretty good as the bad guy with a tortured soul.
Driven
(4)
EA
Rides (2): No mention of anything car related, the only things we know about the cars are that they have 1000HP. Also, we get to see a close-up of the throttle linkage - over and over again. The cars are technical wonders, but you wouldn't know it watching Driven. To see an example of a film that makes the racing car a star in a racing movie, look to the 1966 Grand Prix.
Authenticity (4): Here we lose points for the racing, the action, the cars, the effects, but gain score for the story and the depiction of the racing fans (see the the 'flesh' category for the downside of depicting realistic racing fans). Inter-team tensions and contracts and loyalty are real issues. I'm not sure if racers really trade girlfriends as much as the movies let on, but that's been a staple of racing movies since way back when. There was a total lack of car setup talk, which is the bulk of the work teams/drivers do during the season (see Days of Thunder for some examples, and a few good quotables on car setup).
Flesh (5): I expected more plastic and was surprised with more realistic looking starlets. Sly must have daughters coming of age soon to produce a movie with such believable females. His character's interest in the film shows her wrinkles and rather than her curves, but the ladies I watched it with tell me she is 'cute'. There were the requisite umbrella girls with their corporate sponsorship hot pants, and a few groupies chasing the drivers, but in all they lent more points to 'authenticity' than to a real meat locker arsenal score.
One Liners (2): The only good lines came from the audience. 'You can't fire your brother.' 'My mom is charging me interest'
Action Sequences (2): All cg, hard to believe. The racing is not authentic or even entertaining. There was probably a wealth of stock footage from actual crashes that could have replaced the PS1-era cg crap.
Star Power (8): Rocky drives a race car. Rambo writes the screenplay and Judge Dredd produces. Plus, Burt Reynolds, who kicked a lot of ass for a guy in a wheelchair.Stay tuned for reviews of movie night essentials...
Redline (Yeesh)
Torque (Woot)
Gone in Sixty Seconds (Bleh)
Streets of Legend (Zzzz)
2 Fast 2 Furious (Heh)
The Fast and the Furious 3: Tokyo Drift (L33t)
Death Proof (Ouch)
... and these classics we will be (re)watching at a movie night to come...
Biker Boyz
Mad Max
Days of Thunder
Supercross