Back in action. Not sure what they did, but my Flickr login stopped working a year ago and I haven't gotten around to fixing things. They're still hosting my old images, but it could just be a matter of time. To do:
Host photos locally, probalby pay for more storage soon.
Pull all files from flickr, move them local. I hate web scripting.
Backfill the last eight months.
On the lighter side, here are some triptychs of
Kaf
-dog eating Scooby snacks off his nose.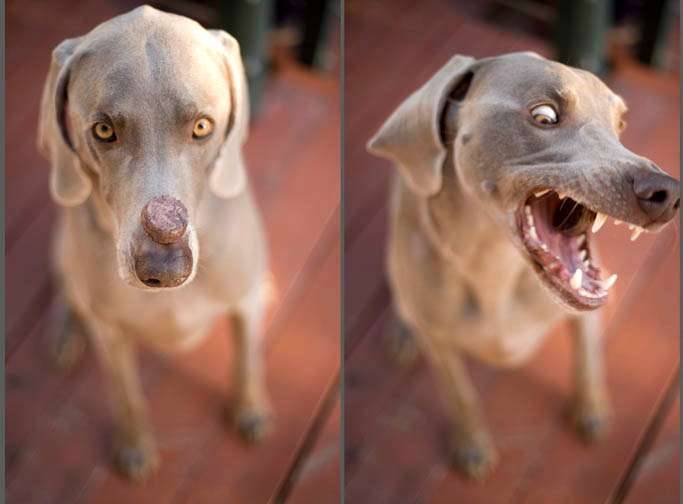 Five days on Oahu, three days on Kauai.
Ty
was kind enough to put me up on his futon, fry me linguicas in the morning, and be an all-around pal; like old times. Ninety minutes after my arrival, the
Volcom Pipeline Pro
final heat was on, so we booked it to the north shore to catch some excellent wave riding.
It was a good day for waves. Not the biggest all tourney, but enough to put on
quite a spectacle
.
I didn't have the right lens for the job, but why not snap a few? The d700 shoots 4256px, so these are cropped to half of that, then resized half to fit the web. I realized later that I have two polarizers and the crappier one was on my 105mm, so the sharpness is not quite there. That doesn't explain the large black specs on each frame though, this does:
That would be the super-high-tech drone technology: gopro strapped to a quadrotor.
Here's another
where it's hovering above the beach.
Kelly won it
, then
Ty
and I went to
grab beers
while the traffic died down.
The next few days were a pleasant melange of cuisine, brews, sweating, swimming, busting balls, and walking around town.
Next up was a hop to
Kava'i
to pick up an
awesome print
(
source
) and hike the
Kalalau Trail
.
The trail snakes up and down the sheer cliffs of the northern Na Pali coast, so it's
fairly rigorous but affords some spectacular views
. Here I had my good polarizer because water.
The trail wasn't as treacherous as I had expected. There were a few parts where it was important to be careful (one depicted above) and maybe worth avoiding in the rain.
After eleven miles
Kalalau Beach is a welcome sight
(
random internet source
says the total elevation change is 5,000'). The beach had a nice shoulder-high shorebreak that was great for bodysurfing.
Tips:
The signpost estimates a 6-10 hour trip time, I was on the low side of that with a pretty consistent 2 mph pace. The only people going faster had no gear and looked like there were qualified to do the round trip in one day. Beating the afternoon rain here is a good idea.
The state park site says there's no camping between the trailhead and the beach. In practice, this definitely isn't the case. Lots of people spent their first night in the Hanakoa Valley and a few people live/grow there. That said, it's a bit more muggy and muddy than the beach, so I'm happy with going the full distance.
Camp at the end of the beach. Hiking more than necessary is unappealing once you've made it, but it's worthwhile. It's closest to the falls (fresh water) and has the widest stretch of sandy beach.
The signs about rockfalls are legit. I put little stock in them after seeing the "omg danger murderous shorebreak will kill you" signs. Nope, heard rocks falling all night. When one bounced off my tent I decided it was time to move.
Tarp + hammock is a good choice, if you can sleep eight hours in a hammock. There is no shortage of trees and this configuration is lighter and will keep you off the ground. A badass tent, if light and ventilated, works too. Anything else will very likely get waterlogged.
Vibrams? I did (rest assured, I will never wear them in public). Shane liked them for our last wet eleven-miler whilst my REI boots delaminated. Expecting lots of mud, I picked up a pair. They were great for speed and for traction on the perilous bits. I wasn't used to them and there was more rock than expected, so my feet were pretty sore by journey's end. Not that regular boots feel like a down comforter after such a hike.
There is a Foodland (food) and Ace Hardware (propane, bungies, etc.) in Princeville.