Prologue
So J and I are
letting The Division rest a bit
and give the developers a chance to get their act together or move on and deal with the
irate fans
. I'll defer to his analysis:
I'll give you a brief rundown of Monday night's proceedings.

The daily missions didn't repopulate (again), so I ran a random side mission to see if enemies would scale. They didn't. I dropped into the DZ for a hot minute and promptly got shot in the back. Twice. Realizing that this was in no way fun, I opened my map to find something else to do, and didn't see anything worth doing. So I logged out, got to Witcherin' and had a much better time. The end. [Ed: not the end]

Honestly, I thought Bungie didn't put a lot of thought into Destiny's endgame, but this seems even worse. At a minimum, why wouldn't enemies in the lightish zone scale to you once you hit 30? This is a loot-driven game, is it not? They spent God-knows how long designing that map, but there's literally no reason to explore it once you hit the level cap. It makes absolutely no sense to me. Oh wait, I take that back. Finding cell phones, echoes, and downed drones is enthralling... oh and crafting materials. Also, the incursion has been almost universally panned by redditers and respected YouTubers alike for being boring and uninspired. So as I see it, there's really not much to look forward to there, and therefore little incentive to grind for the best loot.

Sigh. Sorry for the salt. The core game is solid and it has so much promise (which is largely how I felt about Destiny), I just feel that with so many games as models of what and what not to do with loot based games (BL, Destiny, Warframe, even Diablo), many of Ubi's mistakes were easily avoidable. I hate to say it but I think this game needs a good six months to a year to incubate and hopefully get its crap together.
Some of the DZ06 graffiti and daily mission action is worth sharing before we put that one on ice:
Learning to Warframe
So we moved over to a free-to-play shooter/slasher that's been around for awhile. It's weird to go from cover shooter to shooter, it's
really weird to go from cover shooter to space-parkour shooter
. After getting the controls down - which are basically the normal dual stick with a special ability menu - it was necessary to figure out how to really move. Because when you jump into a game with veteran players, they are on the other side of the map before you've made it through a couple of doors.
For example, the slide + boost jump combination propels you through the air faster (and safer) than you can ever run. There is double jumping and wall-walking, each with tap and/or hold mechanisms.
The end result is that you can move through rooms of enemies with relative ease. This is considerably different from needing to clear a room to move.
The complex movements feel fast at first, but it's not hard to pick them up
and getting them wrong is reasonably forgiving; think Assassin's Creed where you can't get by mashing the parkour button.
Learning to Warframe equipment
I just started playing the game yesterday, I can't be expected to grasp this
. Warframes (exoskeletons) are upgradeable. Guns, swords, ships, and companions are upgradeable. Upgrades are upgradeable. They have ability, variety, rarity, and probably a few other aspects I have yet to grasp. There are materials, there is money, there are levels for everything.
It's not unintuitive or anything, I was just going at co-op pace - make it good enough to get through the next mission.
There were three starter warframes, J chose Excalibur so I went with a Mag. Each warframe has four unique special abilities.
Play modes
In my one session I've spotted quests and single missions that include
point defense, capture, clear, assassinate, and exfiltrate
. There are some pvp modes that I haven't even touched (since terrible). Missions are spread throughout the Sol system. There are a variety of enemy species, there are frenemy clans.
Matchmaking is very proactive, which is great for the defense/capture mission modes. With others, though being paired with veterans can make newbs feel like a liability, particularly since some maps are difficult to navigate.
Look and feel
It's pretty, with more polish than
Planetside
and less than The Division.
The bottom line
It's early but I'm quite
optimistic
. With looting games, especially free-to-play, I worry about how much of a grind some things will be. But the gameplay is solid and there's considerably more playable material than its rivals.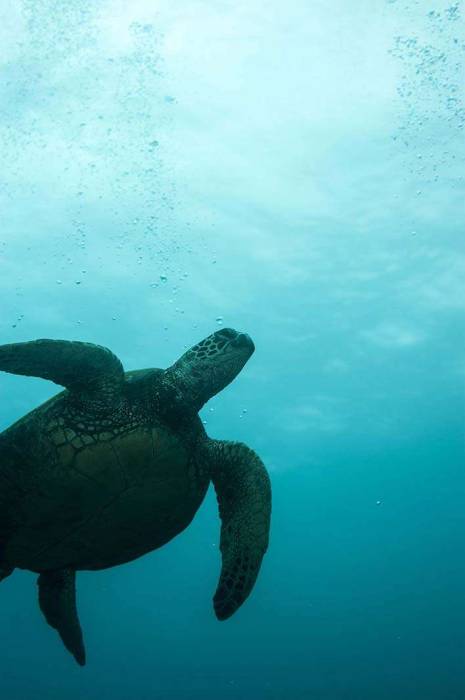 The 'rents were out on
Kauai
for a birthday, so I joined them.
Of course
diving was a must
so I packed all the photo stuff. My intent was to spend the extra cash to do a
Nihau/Lehua
trip. Apparently the earliest anyone does them is the beginning of May but when I called around it seemed to simply not be happening.
Blue Dolphin
advertised a Nihau/Na Pali boat trip with scuba, but when I called I got the impression that it was more of a booze cruise with a single dive probably not at Nihau.
That left local, south shore boat dives. Fair enough,
Jon
and I never did
find the shelf off of Salt Pond
.
Brewery Night
But first,
Kauai now has local brews
! My
local informant
told me Thursday was brewery night in Lihue. Yep,
Kauai Beer Co
was going off. They had food trucks including one serving some of that
amazing Hawaii pork
. The beers were great, too. Two-ish years into existence and they were already doing some creative stuff to complement a stable of regular-type brews.
The real clincher for me was the
slap-cozies
. Whaaa?
First dive day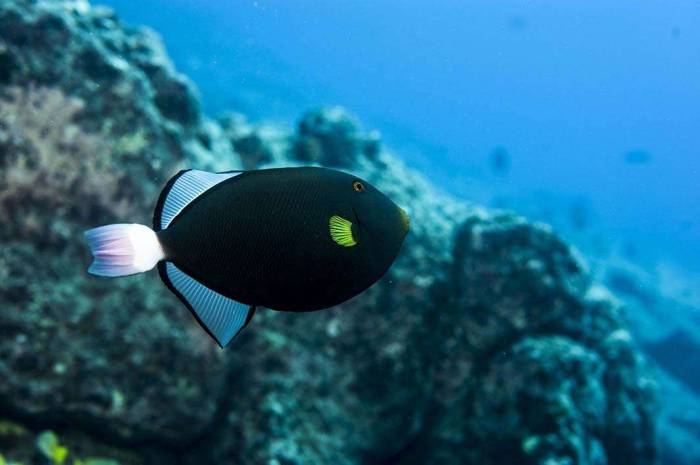 For the first dive I went with the nearby
Seasport Divers
.
Jon
and I had been into the shop before and they seemed pretty cool. Indeed,
DM Jackie was great, as was Lurkin' Liz
(so-named because she was always just hanging out at the edge of visibility).
Lots of turtles
, and lots of different fish and sizeable schools of them. It was a pretty flat bottom at 90' and then 60' with some 10-20' reef formations with the occasional swim-through. So nothing crazy feature-wise, but plenty of wildlife and warm, clear water.
I was happy to find that
I had gotten the flash connections sorted
- previously the sync cable had leaked and I was stuck using available light. Unfortunately, for most of the first dive I had an exposure compensation selector on the camera's lcd - meaning
I could make no adjustments, e.g. to aperture
. I checked the flash exposure compensation lever and found it was not engaged, so I assumed a sync cable leak was somehow the cause. Only when I got to the surface did I find the
camera
exposure compensation button was engaged. Whoops.
I followed the dive up with a beer and a superb pork quesadilla
Merriman's
.
Second dive day
The other nearby charter was
Bubbles Below
out of Port Allen, so I gave them a try the following day. I was pretty optimistic because our captain looked like Ser Barristan and our DM looked like Tyrion (well more like Marky Mark, but we'll go with the theme). Unfortunately Tyrion was rather condescending throughout, two paraphrased quotes of many:
"Okay guys, when you hit the water you're going to start hyperventilating either because you're not sure what to do or because you're just so excited to go diving!"
"Hey I need you to put the [rather pricey and delicate] camera and housing down [on floor of the rocking boat] because I'm about to give the dive briefing and you're not going to listen with something in your hands."
On the plus side, he was cool enough underwater.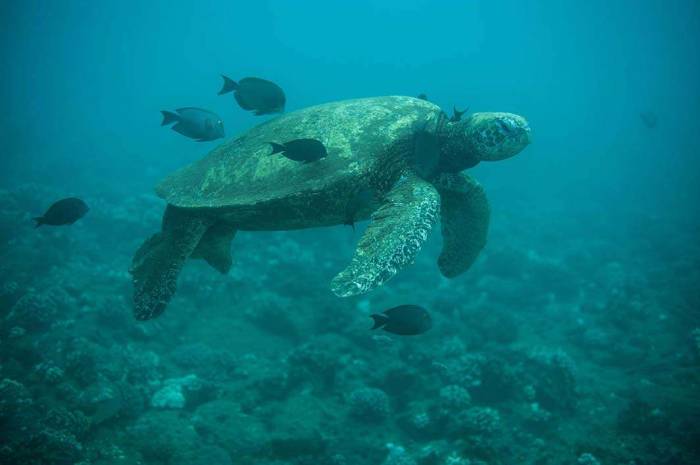 The landscape wasn't too different from day 1, but there were
a bunch more turtles
who were actively getting a wash and wax courtesy of the local fish.
Spot the wildlife:
The dive had an awesome epilogue, across from the shop was the other new brewery,
Kauai Island Brewing
. Their draft lineup wasn't quite as impressive as the Lihue brewery's, but had the
nice warehouse atmosphere and the Giants game on
. After some pork nachos with my dive buddies, the parents arrived and we got a pint.
Hanalei
Sunday we went up to to the
north side
. We started at
Kalypso
for the end of the Warriors game, then went down to the beach.
I borrowed a Xanadu from
Hanalei surf
and rode the break in the middle of the bay. The westward current was pretty strong so I
spent most of the sess paddling
, but there was plenty of atmosphere. To the south were green cliffs with massive waterfalls, to the east was a distant view of a peeling righthand reef break that was going off like clockwork.
Queen's Bath
After Hanalei we stopped by the Queen's Bath tourist hotspot. It was pretty good ROI though, short (muddy) hike for a pretty cool coastline. It was obvious why a handful of people have been washed away over the years - though probably more from an encounter with the rocks than any current.
Return
I prepped for the plane ride with a
stroll down a random path
near Opaeka'a falls. It yielded an overlook that would be an awesome picnic spot. Then back to LIH to have the TSA rummage through my (carry-on) camera bag without me present, and then five hours on the Cars plane.
New friends