The
master bathroom is back under construction
. The drain is installed and the cement board is up. I installed a pair of in-wall shelves.
The
floor/accent tile is a coffee colored marble mesh
. Other than the floor, it's going to go up the wall with the fixtures and perhaps one or two other places as an accent. The next related task is to find large tiles to cover the majority of the walls.
It sorta makes sense to
finish vaulting the ceiling
before doing the floor, as unpalateable as the task is. One wall was easy enough, also shown is the acoustic paneling that may help with reverb. I had to box a vent pipe passing through from the lower floor, I think I'll use the box for light fixtures. Three of the five new studs are up for south wall continuation, which will take a slight angle overhead. The north wall will become a window to make use of the skylights.
So a little more frame work and then drywall for the new wall, box, and ceiling. The other bathrooms' Panasonic fans have held up very well, so I have another on order for this room.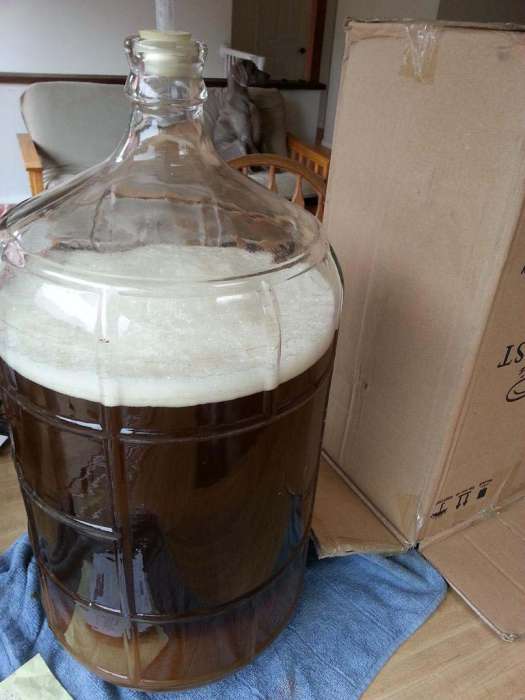 Stingray-J IPA is bottled
and conditioned. I used considerably more alpha acids that the book recommended, however the finished beer is not all that hoppy. The flavor progresses from
bitterness to cherries to a smoked flavor
. The
grain
really came out in this one.
Process:
2# smoked cherrywood grain (steep 40 mins).
1.5 oz US magnum hops (at boil).
0.75 oz Centennial hops (at boil).
0.75 oz Willamette hops (at boil).
1# muntons extra dark (b + 0:20).
12 oz blue agave syrup (b + 0:20).
1/2# lactose (b + 0:20).
8# malt syrup (b + 0:40).
12 oz blue agave syrup (b + 0:40).
0.5 oz US magnum hops (b + 0:58).
0.25 oz Centennial hops (b + 0:58).
0.25 oz Willamette hops (b + 0:58).
End of boil (b + 1:00).
1 oz Centennial hops, 1 oz Willamette hops added at 10 July re-rack.
A calculated abv of 6.8%.
06 July - 1.070.
10 July - 1.030.
15 July - 1.018.
I finally made it out to Comiccon. There were a lot of people.
I sent
Bobby
a photo of a
Pyramid Head
sculpture, to which he recalled:
| | |
| --- | --- |
| | Yeah forget where I was, but a few months ago I had a radio static incident." |
Other choice quotes:
| | |
| --- | --- |
| | I managed to work in a Ty burn and we're not even friends.... so mean. |
| | |
| --- | --- |
| | I just woke up, can't be drunk 24/6. |
I spent most of the fourth getting the
master bathroom
ready for cement board. The cuts all worked out pretty well but when I
went to the hardware store for roofing felt I came back with more projects
. Bulbs for the cable lights, a concrete pier for the deck, chlorine granules for the pool, and rock for the planters. I wound down the afternoon weeding, painting, and rocking the
planters
.
That left just enough time to meet the comrades for
fireworks
.
Cancun
This is all on the heels of five days in Playa Del Carmen for
Ryan and Ashlee's wedding
.
Jon
,
Ty
, and I managed to sneak in a
cenote dive
with the
local shop
.
Cave diving is pretty unlike open water due to the darkness, close quarters, oh and a crazy thing called the halocline which actually
photographs
okay. But it's not to be missed.