The
master bathroom
fixtures: Moen mixer and three way diverter valve, Moen shower head, Kohler body sprays. The valves are pull-on push-off so you don't have to fiddle with the temperature. I went with flush mount body sprays.
Pops taught me how to sweat pipe this weekend. Left to right: flux, solder, pipe abrasives, sparker, tape, propane.
Clean the pipes with a wire brush.
Goop some flux on.
Connect.
Heat them with the propane torch.
Add solder when the pipe is hot enough to melt it, the flux will magically suck it inside the joint.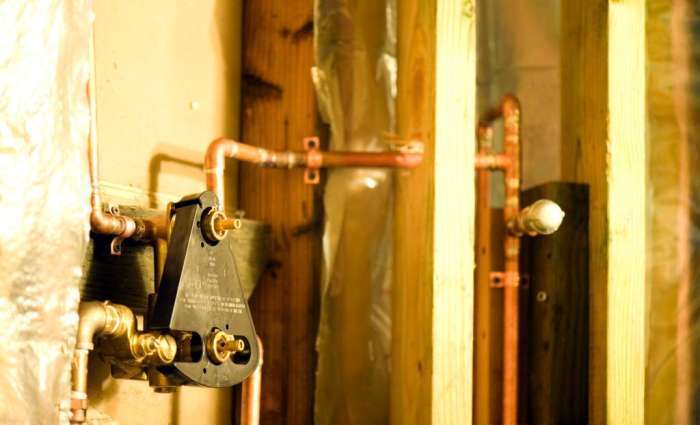 The piping is installed, supported, and pressure tested.
The potted items on the deck now have drippers controlled by a single valve.
I still need to buy a lawnmower, but the grass and vines are growing plenty.
Sweet coincidence of Port au Prince!
My wheels came a scant three days after order, in fact three of them arrived on Tuesday. They look good, I might have gotten a darker hue were it an option, but they do their job and show plenty of rotor. The 18s with new rubber ride wayyy smoother than the worn 19s, I'll see how they handle load after break in.
Chilies and rosemary and stuff - plants that are used as seasonings so we don't have to grow a whole bunch to have
useful quantities
. Since I feel that organic foods are pretentious, I'm going to spray them with DDT every week or so.
The front yard is getting some love. The papyrus is doing well and
Jes
added some sort of flower. The grass is still flourishing, but
now I need a damn lawnmower
.
The deck's been cleared off for
another coat of stain and then some heavy sealant
. I'm not messing around with that thin deck sealant this time.
Also in store for the backyard is
replacing all the pvc drain grates
(most broken) with
metal ones
. They're actually cheapest at Home Depot.
I finally settled on wheels and tires for the vr4.
Enkei pf01
's with Sumi HTR Z IIIs from Tirerack. There aren't a lot of options for the Mitsu (see tiny caliper on Z above) but I like them and it's time. I stopped by Discount yesterday to see if their store selection differed from their site. Barely.
So the pfs have an extra half inch of width, are forged, and add about fifty pounds of lightness.
Now, as with surfboards,
I'm set until I move up to carbon fiber
(espp-dependent).
Source
.
Along with replacement fridge water filters and a subscription to
Roadracing World & Motorcycle
, Amazon is sending me Endless Ocean 2.