| | | | |
| --- | --- | --- | --- |
| Gallerypost | 2020.09.30 | | | |
Looking for
a different angle
, I wanted to take the 500 out to a jetty. My goto would be
Mission Beach
, but
Derrick
was sure Ponto would do the trick.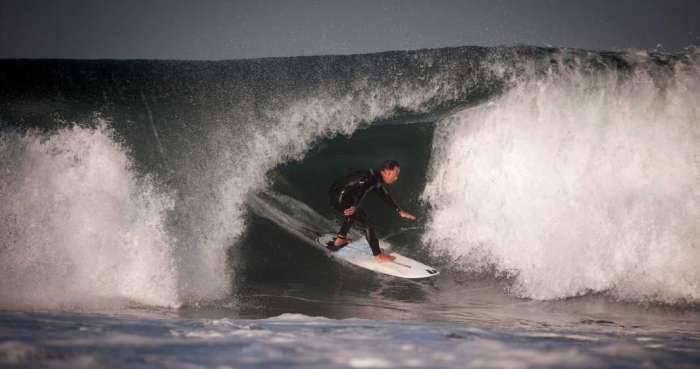 Turns out the jetty just goes to the waterline at high-ish tide. Soooo, traditional beach shots. On the plus side, there were barrels.
| | | | | | |
| --- | --- | --- | --- | --- | --- |
| Gallerypost | 2020.09.26 | | | | | |
So there was a pretty lengthy
article
in The Atlantic about
what could be in store for November
. It's absolutely worth the read, but
here's a tldr with some silly graphics
.
In keeping with an opinionated by apolitical site and the [i]nformative tag, I'll keep the discussion party-agnostic. While the article derives its relevance from a single candidate in this election, the mechanics apply equally to all.
What are we even talking about?
The country will be doing some voting in the days leading up to November 3rd. Things are a bit different these days:
Covid, obviously. Mail-in voting is a big thing now, and polling places will likely look at least a little different due to the pandemic.
The idea of rejecting/protesting the election results has entered the national dialogue. While this may be chicanery, it's at least as relevant an issue as it was with Bush/Gore.
Four years ago, exit polls were ostensibly misleading. In keeping with this timeline, this apparent failure has been generalized to "statistics is flawed and Nate Silver is a charlatan".
The expiration of the 'consent decree' that served as a prohibition on what historically amounted to polling place militias.
The rise of militias to address the civil unrest associated with police violence protests.
Partisan entrenchment. This reads like political cynicism, but there are some fairly significant signs that party leaders are willing to go to great lengths to win.
The bottom line of the Atlantic piece is that
this election cycle may see voter suppression unequaled in recent history
.
Voter suppression? Is this just one side crying wolf?
At worst, it's an exercise in hypotheticals, but there have been some indications beyond the opportunities created by the bulleted list above. Major players on either side of the ticket have
openly advocated for abornmal handling of this election
. The Atlantic article references a few sources, e.g.
| | |
| --- | --- |
| | At the time, [Justin] Clark was a senior lieutenant with [Candidate]?s re­election campaign; in July, he was promoted to deputy campaign manager. "Wisconsin's the state that is going to tip this one way or the other ... So it makes [Election Day Operations] really, really, really important," he said. He put the mission bluntly: "Traditionally it's always been Republicans suppressing votes ... [Democrats?] voters are all in one part of the state, so let?s start playing offense a little bit. And that's what you?re going to see in 2020. That's what's going to be markedly different. " |
More on election day operations and other sources a couple sections down.
Does election interference even work? There are 350 million-ish Americans.
It seems so. Everyone is acquainted with the idea of battleground states/districts in the context of electoral college/winner-take-all voting. Simply,
our system of choosing a president allows political operators to decide what districts they want to campaign in
and which contests they would throw out if they could. It means a small investment yields game-changing rewards.
And so you get targeted action to the precision of the
Brooks Brothers Riot
wherein
a fake protest was staged to prevent a specific recount
in 2000.
Geographical biases in voting outcomes are probably no suprise to anyone, the following may not be either:
In person/early
In person/late
Absentee
Mail-in
And so it becomes a numbers game. Given a yet-unexplained mechanism for removing votes from the system,
political operators have options for skewing polling results
in their favor.
Election day operations/consent decree
In 2018, a federal judge allowed the consent decree to expire, ruling that the plaintiffs had no proof of recent violations by [party]. The consent decree, by this logic, was not needed, because it worked.

The order had its origins in the New Jersey gubernatorial election of 1981. According to the district court?s opinion in Democratic National Committee v. Republican National Committee, the [party] allegedly tried to intimidate voters by hiring off-duty law-enforcement officers as members of a "National Ballot Security Task Force," some of them armed and carrying two-way radios. According to the plaintiffs, they stopped and questioned voters in minority neighborhoods, blocked voters from entering the polls, forcibly restrained poll workers, challenged people?s eligibility to vote, warned of criminal charges for casting an illegal ballot, and generally did their best to frighten voters away from the polls. The power of these methods relied on well-founded fears among people of color about contact with police.
An election interference playbook
Pre-November 03: organize
Organize, recruit EDO, prepare legal strategies. Most of this can be scripted or at least predicted.
Poison the well. Convince people that the electoral system and/or certain types of votes are untrustworthy.
November 03: EDO
Send armed operatives appearing as official as possible to polling places to confront voters. Have them instruct voters to show identification - it's ostensibly a first amendment right. Create fear, confusion, lines.
Embrace confrontation. This drives people away. If things escalate, it may even shut down the polling place. Remember, this precinct is negative votes, if it ends the day with zero votes, that's a net positive.
Any activities inside the polling place or post office leave EDO personnel exposed to legal recourse, but intrinsically cast doubt on the results therein.
November-December: litigate
The Atlantic piece covers the important dates for finalizing vote tallies, selecting electors, and sending results to Congress.
Audit ballots. Find those hanging chads. According to Gellman, mail-in ballots are considerably easier to throw out on technicalities.
Contest results, demand recounts, take legal action. EDO will have won some districts, so the battlefield is smaller. If it's done its job, EDO has tainted every battleground such that it can be litigated in court and in public opinion.
Take a page from the 2000 election and run the clock out when necessary. This may well let the decision default to the majority party.
Have state legislatures invalidate the polling results due to a flawed process and send their own results. Their own election was the will of the people, and they can safely take this action if the people believe the election was 'rigged'.
January: victory or the longball
If all is lost, throw the hail mary and use the ambiguity of constitional language to change the process. Is the supreme court on your side?
Mitigations
| Risk | Mitigation/self | Mitigation/other voters |
| --- | --- | --- |
| Mail-in ballots are easier to reject. | Vote in person. | Raise awareness. |
| USPS load during covid. | Vote in person, use a drop box if you cannot vote in person, mail your ballot early if you cannot use a drop box. | Raise awareness. |
| Polling place congestion from covid, increased turnout, EDO. | Vote early in the day, take the day off, offer assistance to people in queue. | Raise awareness, volunteer. |
| EDO voter suppression. | Ignore anyone outside a polling place that isn't a local police officer and identifies themself as such. Bring a recording device and collect their information, particularly if they claim to be law enforcement but are not. | Raise awareness before November. Inform local law enforcement of the presence of EDO. Graciously shadow them and inform voters that they are a political operative. Document any instances of voter suppression. Do not escalate the situation, remember that more votes = more democracy, regardless of candidate. |
| Post-election day litigation. | None. | None. |
A brief digression into the impossible
The hail mary scenario won't come to pass.
There's no reality in which enough people believe they'll escape the justice system by trying to perpetrate a coup
. But we're all stuck indoors right now and for some reason people love to talk about the Reichstag Fire. Just remember it's not 1776. The People's ultimate check on an oppressive government isn't running around with a rifle. The People's ultimate check on an oppressive government is the general strike.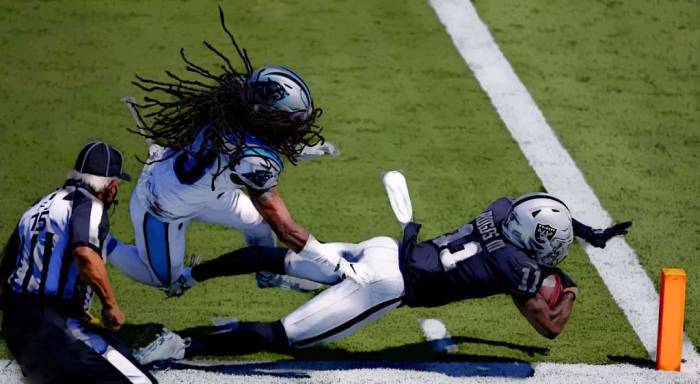 Pretty fun football this weekend. I have to agree with Rich Gannon however,
the fake crowd noise is just silly
.
Fantasy
Week 1 went well so I'll post about it, but with
some commentary about having drafted TE/DEF/K earlier than most
.
I just need Gallup and Conner to total fewer than 45 points. Ingram... what the heck?
Robby paid off with a big TD catch
and with Bridgewater looking pretty good, I'm hopeful he's good for 12-point games most week. Based on targets and speed, Ruggs looks like he might work out as an WR2/flex.
[TE] Kelce-Hooper = 9.5 points
[DEF] NE-Phi = 8.0 points
[K] Butker-Prater = -2.0 points
Prater had a great day, but Butker almost kept pace. Having a great TE and defense I think amounted to more than a few deep flex picks.
Squeezing a few points here and there didn't make so much of a difference in Password is Taco.
Pretty much everyone on Covid-20 went off
, and that was with Robby on the bench.
[TE] Andrews-Doyle = 12.9 points
[DEF] SF-Ind = 0.0 points
[K] Butker-Fairbarn = 9.0 points
SF botched their game and may not be the top defense after all, but
the difference between a good and mediocre TE/K really shows here
.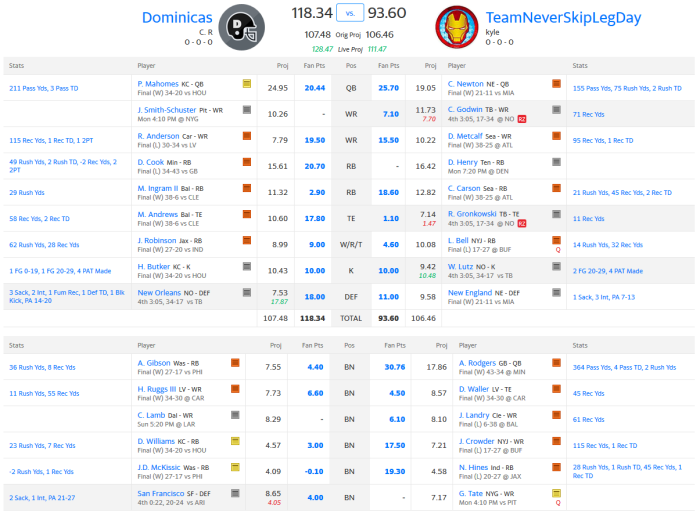 A 25-point lead normally looks good, but with Derrick Henry still to play, I'm
hoping JuJu can put a few points on the board
.
[TE] Andrews-Gronk = 16.7 points
[DEF] NO-NE = 7.0 points
[K] Butker-Lutz = 0.0 points
Andrews is in his own class. If the rest of the season plays out like week one,
+20 points per game between the three sleeper positions should validate the VAR strategy
.
... not that Yahoo buys it...
Update
| | |
| --- | --- |
| Medieval Gridiron | d'san andreas da bears 110.9 - 72.5 Danville Isotopes |
| Password Is Taco | Covid-20 155.66 - 78.36 Black Cat Cowboys |
| Siren Fantasy Football | Dominicas 136.34 - 107.50 TeamNeverSkipLegDay |
Nioh
Having finished Divinity, J and I moved to
Nioh - the souls-like game with good co-op support
.
The protagonist is a British samurai who travels to Japan and fights all manner of creatures while two houses feud.
Like I said,
you can co-op pretty much everything
, including refreshing breaks in the onsen. Since enemies most often select one target at a time, 2v1s can make a world of difference in combat.
Nioh has pretty
substantial inventory/equipment/skill system
that allows you to tinker and customize.
The cerebral menu aspect is balanced by a twitch skill combat mechanic that includes attacks, blocking, dodging, and even
fighter-like combos
.
Ranged attacks with bows and muskets allow eagle-eyed players to traverse parts of levels without entering melee combat range. That said,
most enemies spend their spare time camping behind walls and on ceilings
, waiting for the unwary to pass through without their guard up.
Ultimately,
most levels end with a unique and challenging boss
that has you replaying the level to have a second crack at them.
TLOU
I'm still working at what is a surprisingly-long TLOU2 campaign.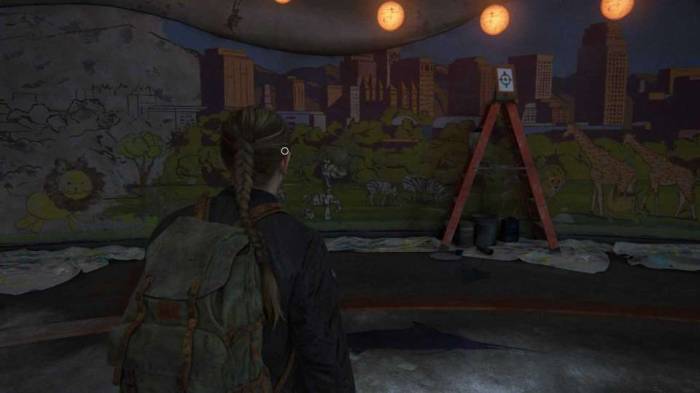 It's a lot of Abby, who seems to have had every opportunity to not be a terrible person. The Abby = Ellie thing keeps getting driven home.
| | | | | | |
| --- | --- | --- | --- | --- | --- |
| Storypost | 2020.09.09 | | | | | |
1. Pestilence/hellfire/infestation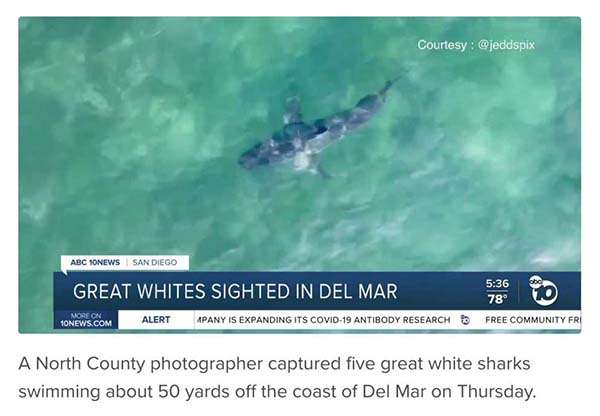 You already know about the covid, now you know about the sharks. The (
relatively mild
) brushfires have given the sunlight a pleasant orange tone.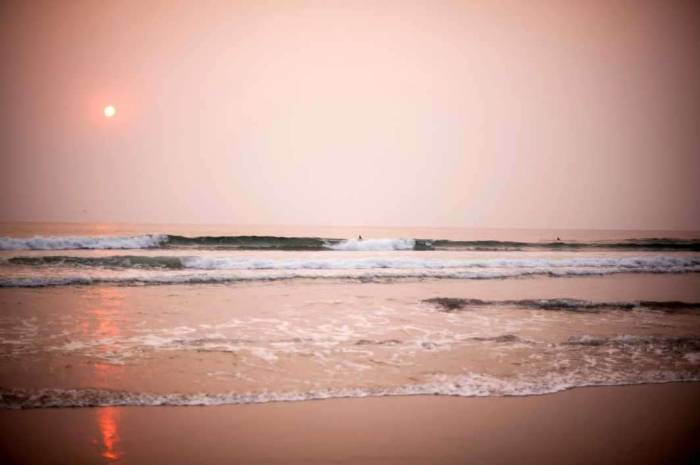 So
Jes
and I strolled down to Black's at dusk. I was hoping to get some awesome
shots of the apocalyptic sunset behind surf silhouettes
, but the marine layer disappeared the sun before splashdown. Still, decent waves resulted in a good photo session with the 500, gallery below.
2. Financial ruin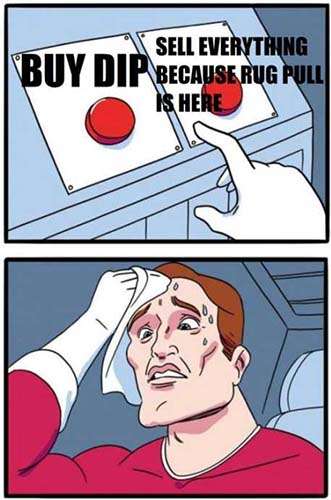 We had another correction that seems to have brought TSLA back to(wards) earth. DOW and DAQ are back in the green at the moment. Also, strictly speaking, that's not how that meme is supposed to be used.
With more couch time than normal, my streaming meanderings have included what really should be considered
the trilogy of the '08 financial crisis
:
The Big Short is *the* housing crisis movie and probably the most entertaining of the three. It not only tells a great story, but does so with humor, clever dialogue, and approachable technical explanations. Since the protagonists are Wall Street semi-outsiders, they're not hard to cheer for.
Margin Call takes place over a single night at the precipice and chonologically between the other two films. It has a tighter focus (a single investment firm) and is more about the darker side of Wall Street's handling of the crisis.
Panic: The Untold Story of the 2008 Financial Crisis. With HBO and Vice (I think?), I expected a Michael Moore-style persuasive case. I should have known better, their Pizzagate/conspiracy documentary lets the source material speak for itself. Panic is more or less completely comprised of interviews with key players (e.g. TreasSecs, Bush, Obama) of the financial recovery. It picks up the timeline where the last two films roll credits. Aside from a good story and interesting tidbits (e.g. TARP was repaid with interest), there are a surprising number of laugh-out-loud moments - mostly gallows humor. GWB's struggle with laissez-faire is both respectable and entertaining. One of his telling quotes goes like: if he's going to be remembered as FDR(D) or Hoover(R), he'd rather be remembered as FDR.
3. Mind control
Elon demoed... well that he could measure bulk electrical activity in live pig brains. It fell pretty
far from the mark of promising that we will soon stream movies into our heads
. I only did a little cogsci, but I'm skeptical that such a feat could be accomplished with a couple of metal spikes.
4. Crawl
Our remote team lunch seemed like a good time to get a few words of encouragement and some lessons in cyber from the legend.
Games and humor
The lolbaters took another
unsuccessful run at Mithrix
- albeit to end a lengthy initiation run for
Shane
. The triple-shrine of the mountain beetle guard drop was funny.
I also played my first Age of Empires match. It went as well as expected. Neat game, disappointed I missed it the first time around.
I would be happy to see [Mulan] at the movies. But $30 directly to Disney+? That's like six tickets easy.

Santos
I'm not subsidizing Disney's Corona losses.

Zac
You mean "the Chinese invisible virus"
Not to be confused with "the Chinese visible virus"...
... which is TikTok.
Surf gallery
It's a season of upheaval - there's the rona, protests, the Raiders moved from San Fierro to Las Venturas, and I've lost and added a league (RIP bizarro). It seemed like
a good time to refresh my team names and graphics
, stick to the greedydraft principle, but take some hints from the 2020 NFL draft.
Medieval Gridiron: d'san andreas da bears
| Position | Player | Round | Info |
| --- | --- | --- | --- |
| QB | Deshaun Watson | 3 | I was thinking of taking a low-rated QB with upside (Cam, Carr, Lock), but Deshaun was too hard to pass up. |
| RB | Dalvin Cook | 1 | My keeper choice was between Cook (1st) and Wilson (4th). Here's hoping he has another good year. Naturally, after choosing a first round keeper, RNGesus awarded me first overall. |
| RB | Mark Ingram | 4 | There weren't a lot of running backs left, hopefully everyone's too concerned with Lamar to worry about stopping Ingram. |
| WR | Robby Anderson | 7 | I waited on receivers this year, hoping to roll the dice with a few rookies and hope that one hits. Robby isn't a rookie, but a fast receiver who is finally not on the Jets. |
| WR | Henry Ruggs | 9 | First dice roll. With Tyrell on IR, he's the downfield guy (vs Waller and Renfrow). |
| TE | Travis Kelce | 2 | Greedydraft said the floor for TEs is pretty low so I reluctantly pulled the trigger in the second round. |
| FLEX/RB | Antonio Gibson | 5 | Hard to be optimistic about a RB on a bad team, but sometimes rookies break out. |
| D/ST | San Francisco | 8 | Greedydraft said a good defense is worth a lot of points. The 9ers have that as well as an offense that can grind out drives. |
| K | Harrison Butker | 6 | He worked out great last year, averaging 2.3 more ppg than the #12 kicker. In contrast, the #12-#24 RB averaged 1.1 additional points. |
| Bench/WR | CeeDee Lamb | 10 | I got him in back-to-back picks with Ruggs and obviously had to choose the Raiders WR first. Fast, young receiver, passing team. |
| Bench/WR | Mecole Hardman | 11 | We'll see what KC's offense looks like. |
| Bench/RB | Damien Harris | 13 | It's always tough to know how a NE RB situation is going to play out. |
| Bench/Def | New England | 12 | With the 9ers, I probably don't need another defense. Playing the matchups and not having to hit the wire is nice though. |
Password is Taco: Covid-20
| Position | Player | Round | Info |
| --- | --- | --- | --- |
| QB | Aaron Rodgers | 10 | I went RB heavy in this league, deciding to get Lock or Carr or whoever was left at quarterback. Rodgers in the 10th isn't too bad. |
| RB | Dalvin Cook | 1 | I hate going too heavy on one player, but I didn't like the alternatives. |
| RB | Josh Jacobs | 2 | He was great last year, not a bad RB2 to have. |
| WR | Calvin Ridley | 6 | I also went with the WR dice roll strategy in this league. Here I went with Ridley, hoping Matt Ryan's even/odd year trend holds. |
| WR | CeeDee Lamb | 11 | Lauren swooped on Ruggs - who I would favor simply for having less competition - but Lamb may prove to be the better choice. |
| TE | Mark Andrews | 4 | Another of the rare high-scoring TE choices. |
| FLEX/RB | Jonathan Taylor | 3 | Running backs in the first three rounds. A rookie with an old-timer QB should get fed. |
| D/ST | San Francisco | 7 | Same same. |
| K | Harrison Butker | 5 | Yup. I want to believe kickers and defenses are pretty safe bets. |
| Bench/TE | Darren Waller | 8 | I don't know why I drafted a second tight end. He can play in the flex spot and cover the possibility that Andrews gets covid/injured/whatever. Perhaps I'm just eternally hopeful that the Raiders break out (which is how the NFL scriptwriters normally handle teams with new stadiums). |
| Bench/RB | Kerryon Johnson | 9 | With Swift nursing a leg injury, Kerryon has a temporary spot on the bench. |
| Bench/WR | Jerry Jeudy | 12 | The third of my rookie WR prospects. Lock had some good games last year, so he may work out. |
| Bench/RB | Chris Thompson | 13 | Sounds like he's the RB1 with Fournette gone. Maybe he's a solid 7 ppg RB that I can trade to a team that caught an early-season injury. |
| Bench/WR | Robby Anderson | 14 | I really wasn't creative this year. Hey, at least Yahoo says I got him way after ADP! |
| Bench/RB | Darrel Williams | 15 | Nothing wrong with taking the #2 RB on the Super Bowl champions in case something doesn't work out with their #1. |
Siren: Dominicas
| Position | Player | Round | Info |
| --- | --- | --- | --- |
| QB | Patrick Mahomes | 2 | Greedydraft had Lamar and Mahomes in a league of their own, I happily took the SB champion in the second round. |
| RB | Dalvin Cook | 1 | I hate going too heavy on one player, but I didn't like the alternatives. |
| RB | Mark Ingram | 5 | I hate going too heavy on two players, but I didn't like the alternatives. |
| WR | JuJu Smith-Schuster | 4 | Hopefully Roethlisberger gets some protection this year and can go back to throwing bombs to JuJu. Drafting a WR this early feels kind of weird. |
| WR | Henry Ruggs | 10 | AC/DC << Carr Rugg |
| TE | Mark Andrews | 3 | Gotta make sure the TE position pays. |
| FLEX/RB | Antonio Gibson | 8 | A rookie RB1 in the 8th isn't a bad pickup. |
| D/ST | San Francisco | 7 | Please don't be terrible. |
| K | Harrison Butker | 6 | Please don't get covid. |
| Bench/RB | Adrian Peterson | 9 | At the time of the draft, Peterson and Gibson were handcuffs. I guess I should keep AP to see how things work out in Detroit. I'm not expecting well. |
| Bench/WR | CeeDee Lamb | 11 | Does Dak really have a better place to throw the ball? |
| Bench/RB | LeSean McCoy | 12 | I expect/hope that TB is a total shitshow. But if chaos is a ladder, maybe McCoy climbs it back to greatness. |
| Bench/Def | New Orleans | 13 | A much-improved defense with a methodical offense - worth having as an option for when SF plays in Seattle. |
| Bench/RB | Damien Harris | 14 | In this league I have the RB depth to bide my time and see how this situation works out. |
| Bench/WR | Robby Anderson | 15 | Please Robby make me look like a 3x genius. |
And JR2's LM video
Skip ahead a bit to go directly to his marble race setup.
Neat.