Appropriation
One morning whilst enjoying my oatmeal I decided to check on the going rate on an
underwater housing for my d700
. My slr has been around for awhile, and you'd think either:
Somebody's got inventory to clear.
Whoever spent 2g on a housing in 2008 would have moved on to a new setup. And, well, used photography equipment is a buyer's market.
I was almost completely wrong. There were quite a few full-price new housings and
not many used rigs
. The best place to find used gear ended up being forums on sites like wetpixel. People here were, however, either selling used stuff at 90% of the original purchase price or only dumping their entire $4000 investment (camera, strobes, pelican case. etc.).
But I did find one. The
Ikelite 6812.7
. For it I picked up lens ports that would work for my 20mm and 50mm and an old Ikelite strobe (don't need super electronics yet).
I'm enthusiastic about
taking it on a dive
but - more pressingly - it's July, the water is warm, and I haven't done
nightsurfing
in
forever
.
Preparation
This was potentially going to be
a vast improvement on the previous sessions
(film + soft case, point and shoot + hard case):
A much better camera
Faster lens (50mm f/1.8)
Several hundred exposures vs 36
Histograms
Sturdy housing
Reliable use of the viewfinder
Indeed, pool tests indicated the
optics were good
. This doesn't necessarily map to success in the waves at night, but there was reason to be optimistic.
I ordered some cheapo
led tea lights
and strung pairs on some twine to be used as focus necklaces.
The plan was to mount the Ikelite strobe on the housing and use it to trigger the speedlight that
Jon
would be pointing at the subjects. Unfortunately, the strobe came with an Ikelite-Nikonos cable rather than Ikelite-Ikelite. Semi-fortunately, the speedlight housing was Nikonos format.
This still meant I
only had the single, front facing flash
and it meant I'd had to rig the speedlight to the camera housing. Well,
zip ties
and electrical/duct tape have never let me down in the past (except as a prophylactic).
Booties on the ground
Scott and Chris (hence referred to as Chris2) were my only people able to get out that night, in addition to
Jon
who was now liberated of flashing duties.
We headed to
Scripps Pier
at nigh-high tide just after sunset.
Focus
By far the
biggest challenge
for shooting any of these night sessions has been focus. Oh to have the speedlight infrared illuminator.
The leds worked very well for focus, but it was still
difficult to ensure they were in the focusing screen
when I hit the shutter. And, of course, an object moving toward you will progress out of focus in the brief period between pressing the button and the actual exposure.
As far as I know the only real remedy for this is coverage. Shoot shoot shoot.
Since I had
Jon
surfing rather than flashing, we didn't experiment with
using dive lights
to illuminate the subject and perhaps make focusing easier. Another technique I was going to try was
focus-locking the flash operator
and shooting from the hip.
Next time.
Some unfortunate misses:
Sharpness
With many layers of optics (lens, filter, housing, water on housing),
sharpness was a big concern
. For those images that were definitly in focus, the setup seemed to work very well. I should probably lose the uv filter though.
The lens port seemed to shed water well, but I expect some images appeared blurry due to a post-duck dousing.
Lighting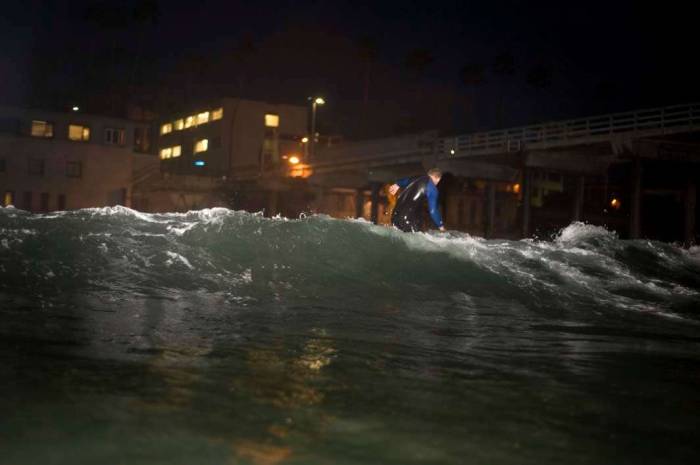 The
speedlight did well in its ad hoc mounting location
. I did not hurt for flash power. Since it was sitting in a polycarbonate housing, the 105mm narrow beam did refract and illuminate the water right in front of me - which was bad.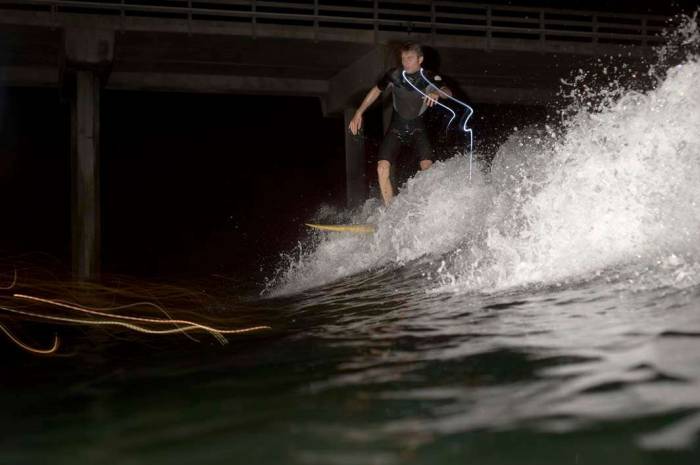 But I think
I'll always need an off camera flash
. The direct flash just catches too much reflective stuff and sometimes doesn't catch the subject well.
Interesting side note, toward the end of the session the flash frequently went from ready to standby to off. This was not good.
Lens
The 50mm f/1.8 worked out well. It is way faster than anything else I have, getting plenty of light shooting at minimum asa.
Other than the flash and leds, I caught dusk, pier lights, and SIO/La Jolla lights.
Prep/miss shots yielded some prodigious abstract art:
Execution
It was a good day for the session. A little more height and peeliness would have been nice, but it was super clean.
The rig was quite heavy
, so I would not have had much luck had been floating.
Chris2
Jon
Scott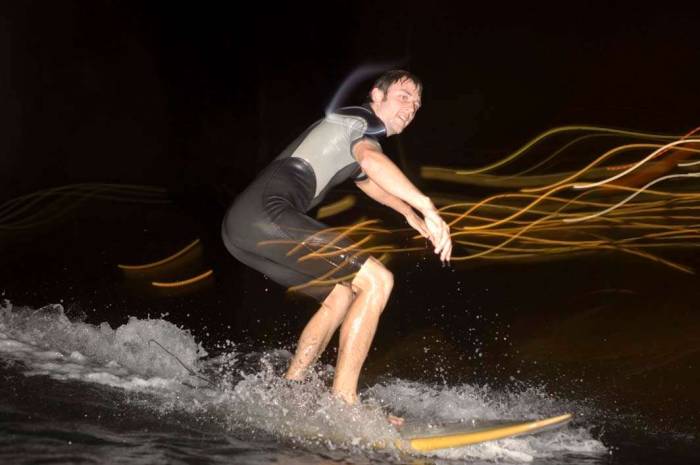 Addendum
Grace shot a few from shore: