The last night session left me
in need of a Ikelite-Ikelite sync cord
with which I could trigger an off-camera SB800 using the Ikelite flash. My cord eventually came in and everything hooked up as it should.
I managed to wrangle another three subjects -
Erik
,
Nathan
, and Ryan. Unfortunately, without
Jon
I had
no slave flash assistant
. With no other options, the surfers switched off holding the flash. This, of course, mean fewer rides between them and a lack of continuity in equipment use.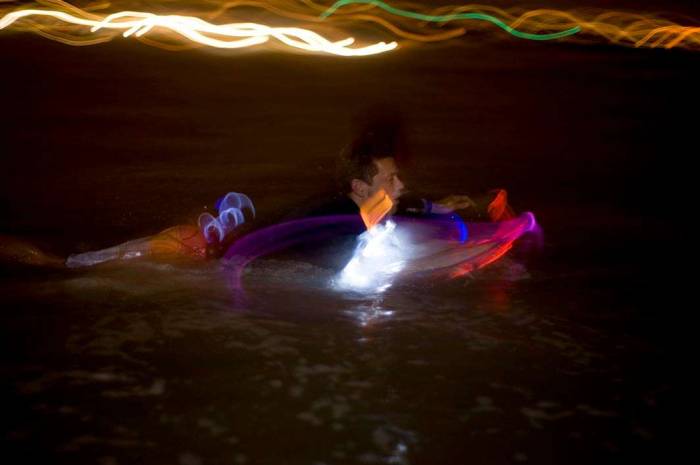 Being the nightsurf veteran,
Erik
picked up some
glowsticks
and bravely packing taped them to his board and butt. The new camera setup didn't make them any better for focus - the led necklaces are still king - but they had some nice effects when not blown out by flash on whitewater.
There was pretty much
no moon
, so waves were especially difficult to anticipate, meaning scarce quality rides.
Nathan
scored a great ride early in the session but I missed the shot (backfocus I think).
Focus is still an issue
, but each session I am getting better. I'm wondering if I can rig an some sort of IR flashlight to the housing to further assist.
The flash combination showed great potential. The
speedlight can really light up a wave
, even from the back. I'm eager to get out there with a full time flasher. Volunteers?
And the week before was the annual taco party. So good food and good fun.