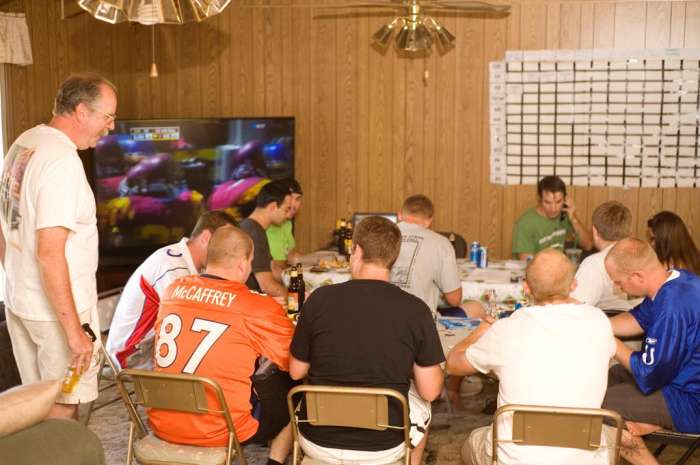 Medieval gridiron
I've finally made the jump to two
fantasy
leagues, but will maintain my own rule that
Thou shalt not speak of thine 'other fantasy league' whilst conversing about a league.
Unless it's really interesting.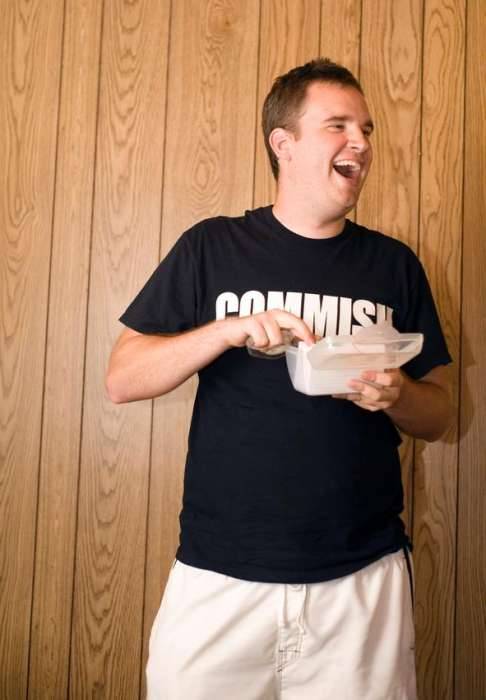 Medieval Gridiron
went with a
paper draft
this year, drawing managers from as far as
San Francisco
and
New York
just to
participate
in this archaic player selection method. Except
Bret
phoned it in
.
The spiritual successor to the
071109 party
, there was
excellent
food
and
enough
drink
to prevent dehydration in the sweltering September sun. Distractions included a closer-than-expected USC-SJ game, as well as some outdoor
activities
.
Like any good draft there was no lack of intense
thought
,
debate
,
criticism
, and
spirited
finger
pointing
.
Axis
Cheryl
worked very hard
to provide the decor and
Big Board
, for that I promised her plenty of imagery to
document
her efforts.
Sunday was the first full game of Axis, it took a mere nine hours to find a winner.
Long story
short:
Germany (black)

struggled with the eastern front

, and finished the game at their original boundary. Its huge success was

sinking the British invasion fleet twice

, leaving the UK unable to move troops late in the game and producing less than twenty per turn.
Japan (orange)

kept America very busy

(see Italy) in the Pacific. There were two large air/navy battles leaving each side with virtually nothing, however Japan

managed to simultaneously shuttle troops to Asia

. The game decision is half owed to the mechanized front approaching the Kremlin from Russia, China, and the newly-factoried India.
Italy (maroon, around the Med) had a bit of a struggle in the Middle East. But since this area cannot easily be reinforced (especially with the British fleet at the bottom of the Channel)

the Italians took Africa

. The Axis stroke of luck came when the Italians

landed a single artillery unit on an undefended Eastern US

. The money did Italy little good, but draining the American treasury was a coup de grace.
Russia (maroon, in Asia)

managed eastern Europe very well

. It retook both Karelia and Caucusus after losing them, and

wasn't losing steam on their western front

even as the end came. Unfortunately Japan made slow, deliberate progress across their eastern buffer.
Great Britain (tan)

landed in Europe a few times

. Feinting into France won them some temporary production and would have also helped the US (via national objectives) had the Italians not been able to reclaim the country both times. Taking Norway sapped the German industry and put the pince on German Karelia, which was soon retaken by Russia. The Brits' fatal flaw, other than taking on the dice-rolling ice man, was to

leave its fleet consolidated and open to air strikes

.
The United States (green) spent most of its resources trying to get back on level terms in the Pacific. While it

did achieve parity in warships and clear air superiority

, its long arm

never managed to reach the south Pacific

's prosperous islands. The Yanks fell victim to the Italian covert ops and lost its war money, preventing a push for Tokyo.