Zac
's ridiculously awesome parents hooked me up with a ticket to the
Raiders-Niners game
. I
walked
from the Balboa Bart station to
Candlestick
expecting to, at some point, come upon a sports bar. Alas there were countless dives, a
park
, and a gorgeous
Alfa
, but no place to watch the morning games.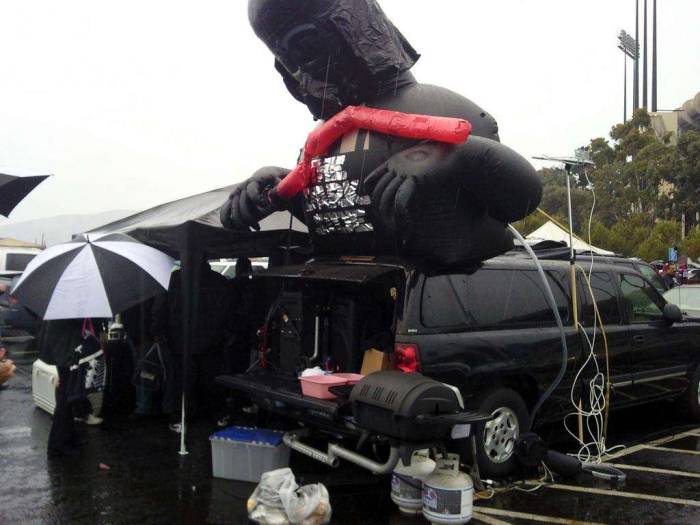 I spent most of the morning wading through
tailgaters
, occasionally catching parts of games from peoples' dish setups. The
combination cooler-motorized scooters
were a highlight.
I'm not sure either team could have played much worse, but it was awesome to see live. Our section had two fights that ended in handcuffs, and the dude two rows back worked on a pile of vom throughout the game. On the whole, the crowd (a 60/40 fan split) was spirited with only the friendliest of animosity towards the other side.
My first AFL win came at the expense of the only undefeated team, 1-5. In
Supermassive Black Hole
I improved to 2-4, and 89 points was good enough to rename
Derrick
's team. Without internet access on Sunday I couldn't bench Run DMc and that made the difference to continue the
Medieval Gridiron
slide to 2-4. And my
League of Extraordinary Gentlemen
rise continues, 4-1-1 but without DeSean next week.
Yesterday I suggested
flag football
to various channels and it's been met with considerable interest. On DEB's suggestion, rather than paying $900 to field a Vavi team, we're going to go grassroots. Two teams with our own equipment and rules. It offers so much more flexibility in terms of team attendance and play style. I'm drafting some
rules
derived from the proven ones that leagues use, but with some fresh complexity.