Beware of this mother right here. With a little dew on the ground, the LJ Colony pergola makes Eau Rouge look like a casual stroll through the Ardennes. Yep,
already had an off
, and I just bought
the thing
.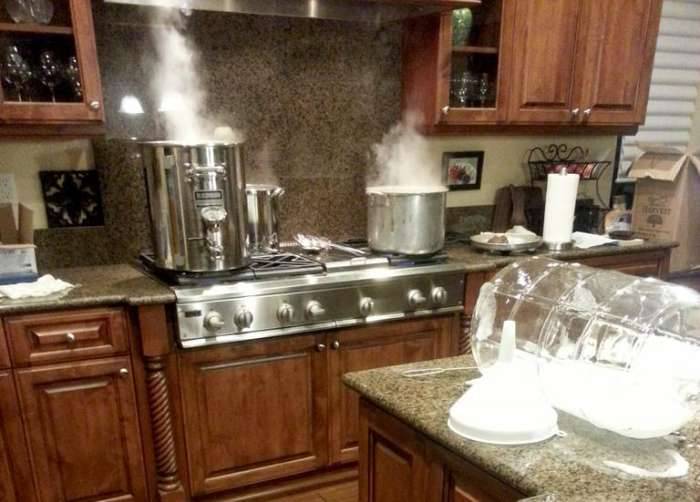 So I brewed with the arm in a sling. Tried the
Watknee Cream Stout clone
from Midwest Brewing even though I've never had the original. In fact, I am sipping Lolwat Cream Stout as I write, and am quite happy with it. Oh yeah,
Steve
is compiling a massive collection of equipment.
The sling came off pretty quickly, but I still needed considerable help from
Ty
to get the
tree
set up.
Eventually I had enough range of motion to ride a proper two-wheeler. The time away from bathroom reno meant I could track down some nagging issues in the garage. For example the stock plug-wire contacts for the Duc are not great and I've gotten some misfires recently. I picked up a different style of plug and wire from
Ca
, however the ignition coil end was just bare wire. Unfortunately, auto parts stores didn't stock these connections, but I was able to cannibalize the ones from my previous wire set.
I was afraid the eight+ hours of I-5 might wear down the ligaments that are taking their sweet time to heal. Happily, the worst tragedy was that a poor dog got rained on. Otherwise, he had a pretty good time being amply walked and showered with
toys
and rawhides.
I've finally hunted down and eliminated one of my greatest enemies. It was not easy, by any means. The downstairs bathroom and central heating enclosure
had 120v on the common line
. No good. I went so far as to run a spare common into the bathroom as a temp fix.
Since I replaced all of the outlets pretty early into the homeownership thing, I figured I had something wired up wrong. Tearing apart the upstream and downstream outlets and flipping breakers eventually helped me determine that the unwanted voltage was coming from the romex bundle; it hadn't been wired to something else at a junction. More circuit opening pointed to the short being between the study and the heater enclosure, though there seemed to be no obvious juction between. Was it routed somewhere totally weird? Did the line somehow deteriorate and short?
More searching led me to a strange fixture I assumed was part of the heater assembly (and downstream of the short). It even said that it was heat-shielded. Nope, this was a convergence of many low-V wires from the
old security system
, as well as the alarm bell. Removing it fixed the short. Annoying.