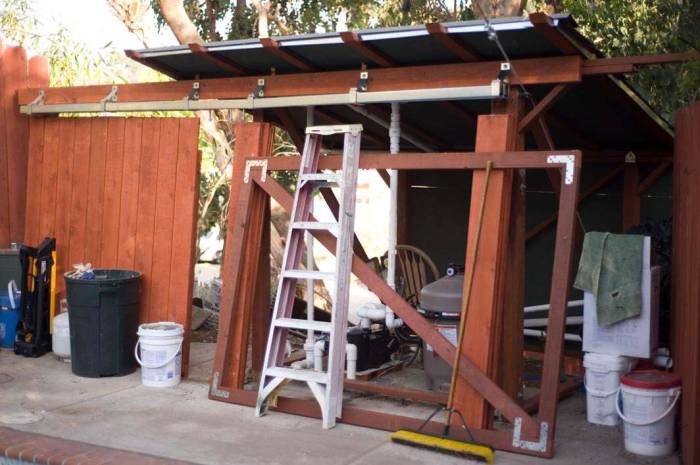 Another weekend, another bit of
progress on the pumphouse
.
The central task was to work out the
sliding door/gate
situation. I decided to match the rest of the yard permiter with 7-1/2" fence planks. 2x4s joined by brackets made up the frame. The pump-side slider is done, the other side is just a frame at the moment. Finishing them and mounting them to the tracks should be a weekday task.
A few more odd jobs, left to right:
Since the post footers were on the embankment, I did a second pour on their downhill side. This one included rebar driven 5' down and cinder blocks. Post mix concrete was fine for me since I intend to cover them with soil.
The solar system came with a diverter and tee junctions, all threaded. Disappointingly, even with a lot of torque and teflon tape, they leaked. So I replaced these with standard, glue-in parts.
I sawed a channel into a 2x4 to make mounts for the rebar guards for the solar grid. Next step will be to attach them to the roof. I really do hate to put so many holes in my awesome shingling job, roofing sealant nonwithstanding.
I wasn't happy with the tree trimmer options at the hardware store, so I'm going to see if a 16' 2x2 and sawzall blade (with retaining bolt) will work.