I threw up a surf rack and a hanging device for the neoprene. The garage is slowly becoming more spacious.
On the clipboard right now is an order form for
window coverings
. I'm leaning toward wood blinds or cellular shades. Should I go with the former, I'll have to decide between stained wood to match the floors or bright white to match the window trim and baseboards. I created another mindblowingly photorealistic mockup of what either might look like.
Please chime in if you have an opinion.
I
ordered a chandelier
for the entryway or above the stairs. The criteria was low-key, no faux candles or faux crystals, and no single pieces that are bent more than a few degrees.
One subject of contemplation is
door choice
for the upstairs bathroom. It used to have a pocket door, great for space but I always found them difficult. Chances are I'll put a regular door in, but I'm considering a slider with some translucent material inset in a wood frame.
So the rest of the bathroom is empty. Cement board, tile, vanity, shower door...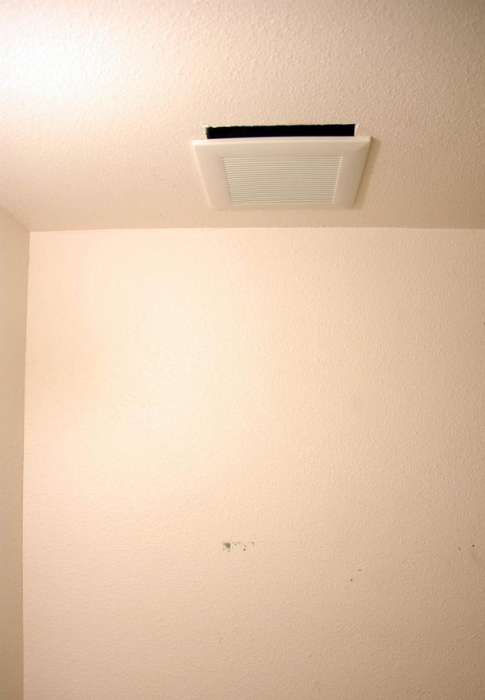 I picked up a Panasonic bathroom
fan
from Dixieline. It's quiet* and all, but the main perk is that
it's not crazy ugly
. Most are. They're all plastic, some are huge, others drop several inches down from the ceiling. The worst offense of all is having the ugly yellow, plastic light. The last fan tucked under the joist, no such luck here. I had to relocate it a couple inches so there's a bit of ceiling repair to do.
It wasn't too tough to install, though I had to extend the electrical and fuss about getting the pipe through the wall.
* Maybe too quiet.
It has been noted that I haven't posted photos of the shower with fixtures. Now I have.
Bronze finish
is looking good for some, if not all of the house. In fact,
Jon
installed door handles on Saturday.