At last, the
Red Bull US Grand Prix
weekend arrived.
Above as gif
.
Riding wasn't an option. It would preclude photo gear and clean clothes, and the single-stint return trip would have been hellish. But that
didn't mean I couldn't take the Duc
, indeed it would be nice to take out and to circumvent raceway traffic. I even brought a board, but it was very choppy when I tried to go out.
101 was uneventful. I cut over to 1 at SLO and had a nice, scenic drive until Big Sur where an accident closed the road in both directions. Still, I made it into Monterey before sunset. The
Mariott was abuzz with the Factory and Pramac Ducati teams, Yamaha too
.
Friday practice was great for photography
. The crowds hadn't yet arrived and there wasn't an exciting race to be paying attention to. A 300mm would have been ideal.
Anyone will tell you that
tv and xbox don't properly convey the elevation change of the corkscrew
, it was worth a try. Of course, anyone will tell you that looking on doesn't properly convey the elevation change experienced on the track.
There's a lot of ground to cover at Laguna, from the hill to the
'screw
to the
tarmac
.
Each part of the track offers a unique view
, either because of the course layout or proximity or viewing angle.
Paddock access was nice.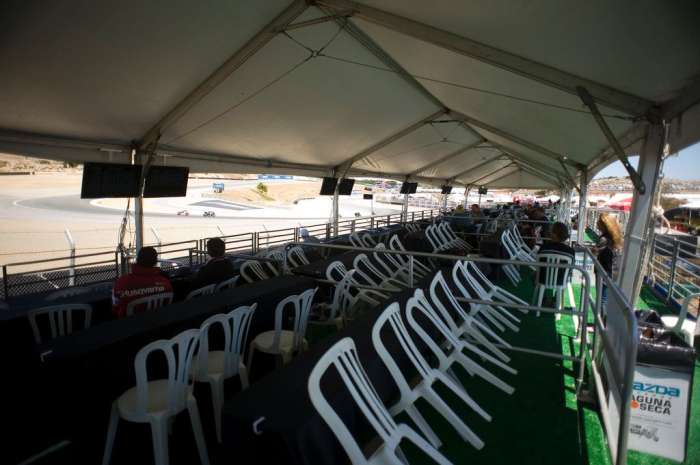 The suite consisted of a covered, elevated platform and serving area. The food was pretty good and the open bar (or
icy bucket on Friday) featured a decent beer selection.


Ducati Island had lots to see and do and buy. The owners' reception tent served espresso.


A remarkable percentage of bikes at the GP were Ducatis so parking on the island filled up quickly.


The crowds certainly poured in for race day. Having a covered seat, bottomless well, and bathroom access was very nice. The bridges get atrocious though, Sunday would have been best spent away from the peasantry.


There were some amazing rides to be seen in the vendor tents and lots alike. Not to mention a
ZR1
and
959
.
Of course, for every pristine Vincent or carboned-out MV, there's
something a little less tasteful
.
The race was pretty good. I expected some dicing at the front based on qualifying times, but
Stoner's 20-lap charge did not disappoint
. The Stoner and Spies passes were beautiful things. The support races weren't bad either, one of the best moments was in the 600cc race; the leaders
came through the turn three abreast
and got away clean.
There was no shortage of offs, particularly at our corner.