Bro weekend
We went to
Austin
for
Ty
's bachelor weekend. The shirts were absolutely top notch.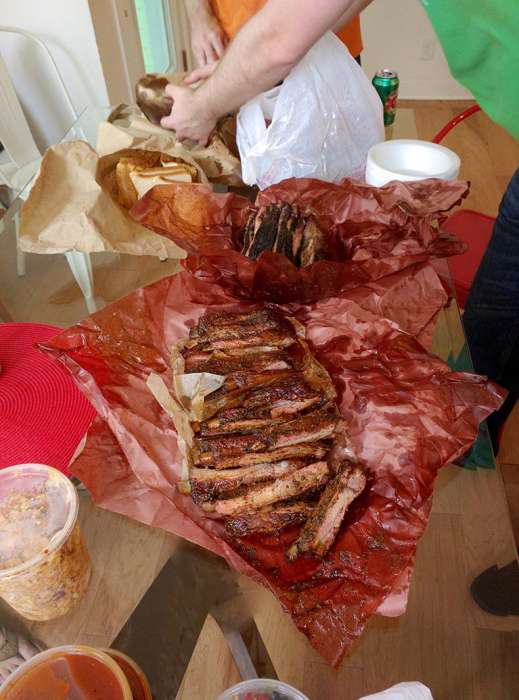 La Barbecue was phenomenal. Smokey perfection.
We did Gospel (Music) Brunch at Stubb's. More insane deliciousness in the stormy April heat.
It seemed serendipitous that J
introduced me to Broforce
just before the extremely bro weekend.
Four player mayhem
was a decent way to fill the gaps between expeditions to Rainey, 6th, and
Wall - oops Walsh - Street
.
We rotated players in and out, so there were a fair number of embarrassing deaths, especially at on the boss stages.
Firewatch
So when
Rob
was down he was kind enough to buy Firewatch for my PS4. I think he intended on a playthrough but never got around to it. Having heard good things I gave it a go on a mellow weeknight.
The prologue is unlike anything I'd played before. I'm not sure if this is for the better or worse, but
it introduces a backstory that gives you a massive case of the feels
. I think it's about giving you some buyin to your character, but it's not particularly subtle.
After the prologue you're dropped into the main game, which is
basically a short story in a 3d sandbox
. And that's really the best way to describe it. The game is an exploration of a modest but interesting
mystery advanced primarily through dialogue
with your Forestry Service boss. The script is nearly perfect - it's clever and funny, it feels human, and it never drags like even Bioware and Bethesda conversations will.
The plot gets creepy at times, but you quickly realize there's no dying in this game; no shooting, not jumping puzzles. It means you're not distracted from the story, but it also means there isn't much traditional gaming tension. And, well, you end up
zigzagging across an unnecessarily large map of indie production quality
.
As I said, it's like a short story - it's over after about four hours. That's pretty ideal, too much more running around and activating rope anchors might get tiresome.
Solid experience, absolutely worth it for the tight, enthralling script.
Could use an autopilot mode, call it FireWATCH
.
The Division
Ubi dropped its
first big patch
for
The Division
. The reception has not been great but without too much firsthand experience I won't get into it.
What would level design be without sophomoric humor.
Nations
On the boardgaming front, I recently picked up
Nations
. It's basically
Civilization on the tabletop
, except that there's (regrettably?) no concept of geography. You build and improve armies, buildings, and wonders to gain resources and victory points.
The
main action is a round robin selection
of buildings, advisers, wars, and so forth. There are events like a lightweight
Twilight Struggle
and a progression of historical ages that up the stakes.
The interplay of players' improvement mats and available cards really keeps things fresh and interesting. We finished a 4up game in about three and a half hours. I could totally see a marathon session where you add a round or two to each age.