Maybe
not all the genres
, but FPS, 4X, tabletop, and a meme game are a good sampling.
Spacivilization (Stellaris)
Since
/r/stellaris
is often on Reddit's default front page with funny posts, I thought I'd give it a go (Steam sale).
Civ
made #3 on my all-time list and Stellaris seemed to have many of the same 4X elements. Long ago I played
Sins of a Solar Empire
and appreciated the scale of the game while feeling it largely suffered under its own weight for playability.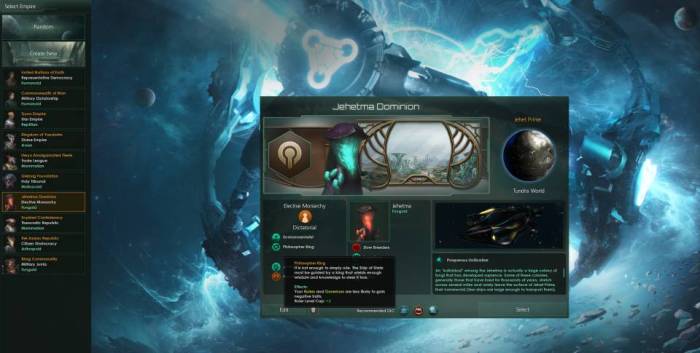 There are
a bunch of unique civilizations
in the main game and lots more available via DLC. Similar to Civ, each faction has default strengths and preferred government policies.
The game creation screen is also familiar. I went with
a small galaxy to minimize clicking
.
Defense comes in the form of starships, in Stellaris you build a variety of (tech-gated) warships and assign them to fleets. Fleets can have rules of engagement, admirals, and user-defined ship designs (shields vs hull and a variety of weapon types).
Cobbling together ship designs is awesome though I wonder how useful it is
(unless you know you have a primary opponent whose ships are weak to specific weapons).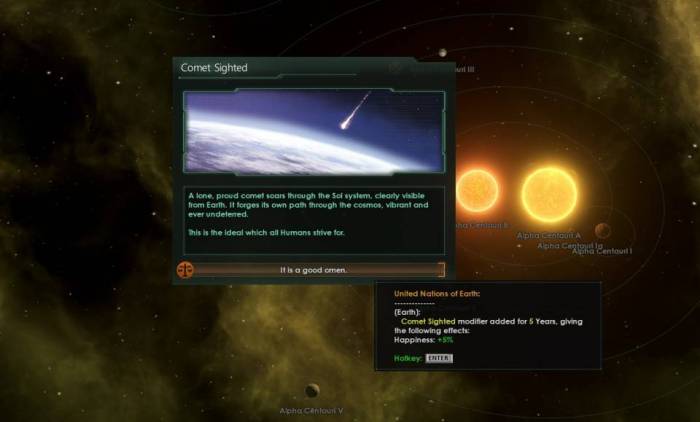 Stellaris has
random narrative events that often provide resource rewards
or objectives. Since 4X games are basically a sandbox, it's neat to have narrative elements (that are sometimes funny or cultural references). Alas, I found that they pop up far too frequently. They're not a nuisance, they just feel more like an income source than a neat find.
In Civ II, the dominant strategy was to build cities every fourth-ish tile. So the clicks per turn got really bad. Subsequent games penalized overdevelopment/overpopulation by increasing city size and having science and culture output normalized by population.
Stellaris provides its own natural growth threshold by limiting the number of habitable planets.
And since Stellaris has aliens, everyone has their own suite of environment needs and technology to terraform inhospitable planets.
Having just a handful of habitable colonies means you don't have too many planet management screens. But planet management is important to keeping your colonies happy and growing.
The Stellaris galaxy has some neat scenery.
First contact in Stellaris is kind of like Civ except that
sometimes you find space whales or primitive civilizations
.
Combat is pretty. From a distance you see lasers and contrails, you can zoom in and watch ships chase each other in circles.
The tactics are all left to the game
, user input amounts to fleet size and makeup.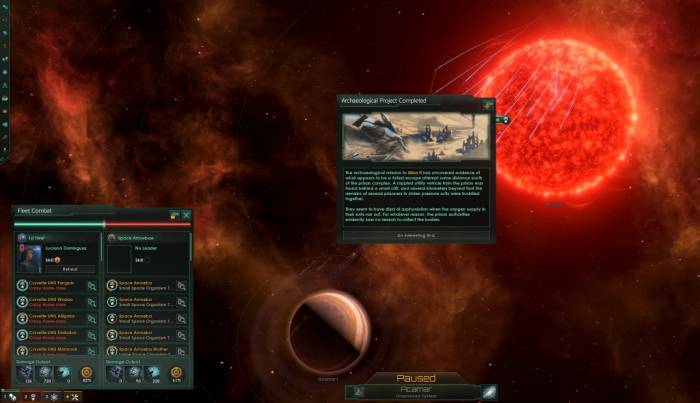 "Wait a tic,
is this game turn-based or real time?
" It's real time with frequent/automatic pauses. It works. The pausing is necessary since there's so much to read and click. Nondiscrete time allows for a more fluid pipeline of events.
Stellaris has the usual 4x elements of
trade, diplomacy
, and denouncing frenemies.
Final thoughts
Since it's no longer xmas break, I'm not sure when I'll get a chance to resume my game (or start a new one now that I have some idea of what's going on). Though I have limited seat time,
I suspect Stellaris has the "4x doldum" period
where in the mid-game you are trying to simultaneously:
Expand as much as possible because late-game settlements are unproductive and strategic liabilities.
Race down the tech tree so you're not throwing spears at tanks when you no longer have things to research.
Avoid becoming mired in war, since an uninvolved civilization will surely win.
This was pretty common in Civ and Sins. It's an un-fun period that sometimes doesn't happen but often does.
Gunfire
The lolbaters squad played some Gunfire.
Gloom
A Party Has No Name killed a challenging elder drake and a bunch of squishy vermlings.
Come See My Hole
The lolbaters meme game this xmas was Come See My Hole.
Wonderlands mop-up
Me and J finished the
Wonderlands sidequests and a few rounds of the Chaos Chamber
. My favorite part was how visibly angry J became with the "The Ditcher" questline. He's a huge Witcher fan and practically ragequit over the Wonderlands parody character being written as a smug a-hole.
Next
We grabbed ESO and a few other games, but have moved to The Ascent (more on this in another post). I did watch a quick ESO vid, here are my notes:
There are two recruitable NPC companions (per player?) that allow solo players and small squads access to larger dungeons.
Gear drops scale to your level, so wait for max level to be overly concerned with gear.
Do logs of crafting and disassembly to grind those levels.
Factions only matter for PvP.
Elden Ring/Amogus/Moment of Zen
GreyGanado
Goatse: gen x and millennials

Dickbutt: millennials and gen z

Among Us s: The future is now old man.