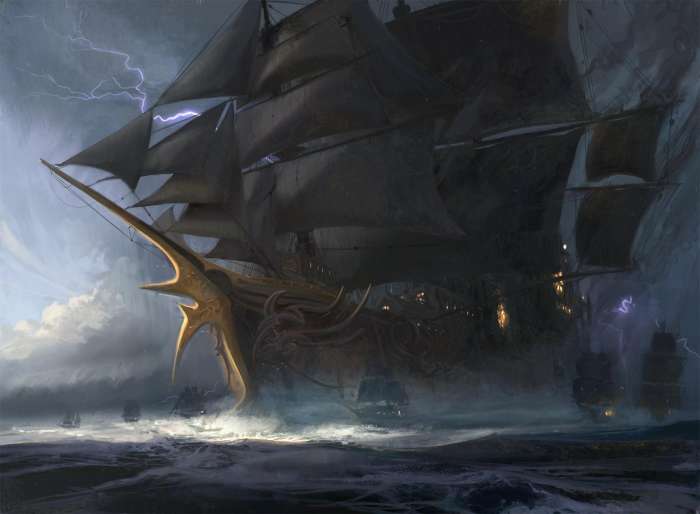 Okay I'll put these in their own posts so they're easy to nav around.
Monday we did
sealed at Barrel Harbor
. Beers, cards, epic space battles on one side and the Panthers wrecking the Dolphins on the other. Also, a table dog:
Sealed: everyone gets six 15-card packs and builds a 40-card deck (17 lands). Like
draft
but different - larger per player card pool, but it's not a shared pool.
Nothing grabbed me as a card/tribe to build a deck around
. I had a lot of dinos, but they were spread among the three colors. I had very few Merfolk or Pirates. It looked like I could put together a black/white vampire deck but didn't even have enough of those to have any choice. The difference from a draft was immediately obvious: I could decide on a tribe and zero in on these cards.
Source
.
Mana cost histogram
7
5
4
3
3
1
0
0
1
2
3
4
5
6




Cards
Bishop of Rebirth
Bishop of the Bloodstained
Bishop's Soldier
Bishop's Soldier
Contract Killing
Deadeye Tracker
Demystify
Duress
Duskborne Skymarcher

Field of Ruin
Glorifier of Dusk
Lurking Chupacabra
Paladin of the Bloodstained
Pious Interdiction
Queen's Agent
Rallying Roar
Seekers' Squire
Skulduggery

Skymarch Bloodletter
Skymarch Bloodletter
Skymarch Bloodletter
Slash of Talons
Unclaimed Territory
Vampire's Zeal
Vanquisher's Banner




I considered trying to develop a synergy around the explore mechanic with Chupacabra, but that's more heavily in pirates and merfolk. I left the Deadeye Tracker in there for a little exploration and because I didn't have many cheap creatures.
I had some flyers, so I was hoping to maybe get them out and doing damage early.
I love Vanquisher's Banner. +1s on flyers and lifelinkers is great, card draw is great too.
Well,
I went 0-2, 0-2, 2-1
where my win benefitted from some unlucky draws by
Corey
. Everything I put out seemed to be removed, and my opponents were able to put together some great combos. The expensive vampires didn't do much for me, not like their peers in the dino realm.
What to do differently? Read on.
General purpose
Here are the other cards I've opened that are tribe-agnostic, with tribal ones to follow.
Source
.
White/green dinos
Eight dinosaurs in the white/green
would mean filling with humans or whatever. Wasn't appealing and I think white/green is supposed to be the bad dino combination.
Source
.
Red/white dinos
Ten here, I guess this would be playable with some tribal buffing.
Source
.
Green/red dinos
Nine in the green/red. Still short of the ideal 13ish creatures and I didn't pull any of the good low-cost creatures like Raptor Hatchling, Nest Robber, or Otepec Huntmaster (which itself makes dinos cheaper).
Source
.
Merfolk
Four merfolk in so many cards. Wow.
Source
.
Pirates
Eight pirates spread over three colors. Nah.
Source
.
Rethink
In retrospect I should have just repeated what worked for me
last time
, though maybe I'd still opt for trying the tribe I haven't yet used.
Red-green gave me a decent suite of dinos, with a few possible mechanics:
Dabbling in white - especially for late-game creatures - could work given Sunpetal Grove, Unclaimed Territory, Trove of Temptation, and maybe a few plains. The benefit is a flying/menace 2/2 and an Aegisaur that could make the rest of the board huge if it's target of the next mechanic...
Sun-Crowned Hunters is free damage to opponents that could be triggered with Fiery Cannonade, a pair of Riles, Raging Swordtooth, and Dual Shot. Of course, both this and Aegisaur cost six, so it's slow to develop. Basing your strategy on two expensive cards is less than ideal, but only the Riles are dedicated to this mechanic.
Dinos buffing dinos. Banners buffing dinos. Big dinos smash.
The
obvious weaknesses
here are a lack of removal, flyers, and some high casting costs.
Source
.
Mana cost histogram
4
4
4
4
3
2
1
0
0
1
2
3
4
5
6
7




Cards
Bellowing Aegisaur
Colossal Dreadmaw
Commune with Dinosaurs
Demolish
Dinosaur Stampede
Dual Shot
Fiery Cannonade
Frenzied Raptor

Grazing Whiptail
Ixalli's Keeper
Raging Swordtooth
Rampaging Ferocidon
Rile
Rile
Sky Terror
Sun-Crowned Hunters

Sunpetal Grove
Swashbuckling
Thrash of Raptors
Thundering Spineback
Tilonalli's Knight
Trove of Temptation
Unclaimed Territory
Vanquisher's Banner