We didn't want to risk transport issues on a holiday, going from a small town to a small town far away in another country, so
we hit the train platform early
for our local train into Mainz to catch our direct (with stops) train to Interlaken. Pulling up the web site, it appeared the last ten miles of our commuter segment was replaced with a bus ride that was projected to arrive just twelve minutes before departure.
I have nothing but confidence in the European train system, but not twelve minutes of confidence in our ability to find the right platform. So
when an earlier train showed up, we audibled and got on
, hoping to give us more options and time - especially if we needed to cab it. After boarding, a quick look showed that this train's destination was Mainz, but a different station. Still, closer than Budenheim, the new end of the line for our original train. But comparing the current train to the original, this one had many more stops and would get to Mainz much, much later.
In Bingen, we hopped off at what was thankfully one of the few stops for our original train, then waited an agonizing 20 minutes for it to arrive. The train's station list crawler still showed Mainz Hbf, but between the DB web site, a long monologue (in German) by the conductor, and finally a nice dude overhearing our conversation and translating, we knew that we had to risk the bus.
Thankfully, the bus was a dedicated coach (not a city bus) and made it to the Mainz station on time. With a little distress, we found the bridge and platform for our train. Whew. Obligatory American traveler train crisis averted.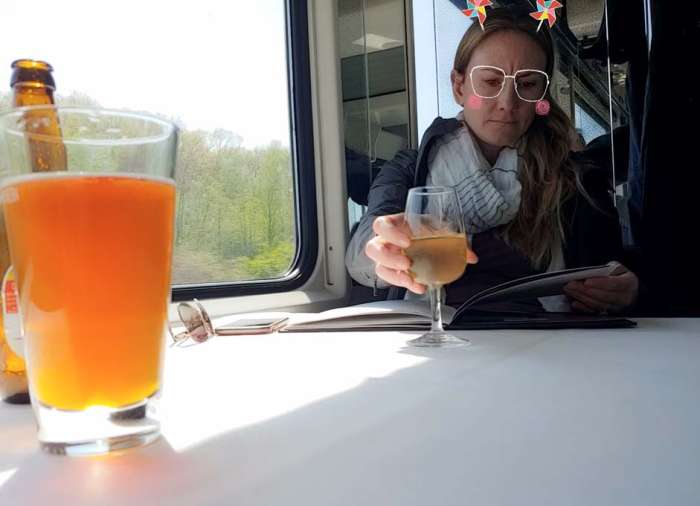 As usual, we were thankful to have palatable and not-overpriced
food available on the train
. It was a relaxing ride.
Interlaken was intended to be a stopover on the way up to the mountains - we couldn't get a car on Good Friday - but I was optimistic after rave reviews from J and
Derrick
. The
Hotel Lotschberg
was just a couple blocks from the train station and had an awesome host and excellent free breakfast. The rooms were comfortable but not recently renovated, but it was a very good deal for the price.
After dropping the bags, we took a lap around a nice but very touristy downtown. There was a stop at a chocolatier and some gawking at the paragliders landing in the field in the middle of town. The real goal here was to have
fondue
, and we certainly did. It did not disappoint; flavor was cranked to 11. Oh wait, I have a separate food post. No more writing about tasty fondue.