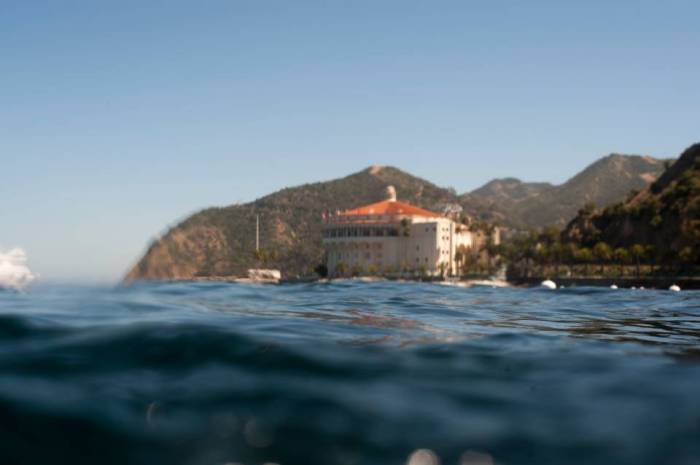 Riding
Cooley
's initiative, we did
a three-night trip to Catalina
.
Sunday: Getting there
We drove up to Dana Point and took the ninety-minute ferry ride to Avalon. The only hiccups were a few spots of midday Sunday gridlock.
Sunday: town
Avalon is a tiny town. There are a few blocks of restaurants, hotels, spas, and souvenir shops
surrounded by a ring of houses. The boardwalk smells of the half-dozen beachside ice cream shops and the exhaust of two-stroke golf carts.
Things to do
I'm just going to say it,
I don't know how I feel about vacationing in a town built around a harbor
. I like boats well enough, but I don't want the entire panorama to be a water parking lot. And maybe I'm used to more industrial harbors, but there's something disconcerting about wading in water completely enclosed by a nautical cordon. That being said, the boats were there first and the Avalon beaches are mostly rocks.
If you aren't a sailor,
there isn't all that much to do in Avalon
. Kind of. The shops and harbor are worth a lap, but unless you're seriously into tchotchkes or overpriced-but-not-ridiculous food, the town doesn't have much to offer.
Since Avalon is a nice, quaint beachside town,
it's plenty accommodating if you're aiming to relax on the beach or read a book on a balcony
. It'd be a bit more relaxing if they replaced all of the gas-powered carts with electric ones, but it's better than cars.
Monday: cabana day
I'm not really a cabana person so I wasn't especially excited for Monday's itinerary. When I arrived to find that the neighboring cabanas were dueling their bluetooth speakers (mariachi and club beats) I was ready to turn back. But, awesomely, we had
the endmost cabana that looked directly out to sea
. There was a good view, there was no foot traffic, and the sound somewhat muted.
Dani
was all about getting in the water.
Things got really cool when we found the kelp forest between the beach club and the adjacent cove.
The kelp creates narrow canyons of swimmable space with dark caverns to freedive to.
The brightness delta was too severe to get any illustrative photos, but a little ways down there are some shots from the similar-but-less-dense dive park.
Disaster
Catalina Divers Supply sent a reminder and a confirmation of our boat dive, complete with stern warnings about how any issues within 48 hours would result in no refunds.
Then they cancelled the boat trip.
The story they told
Cooley
was that the boat was broken and there were no other boats available to them. Lacking any ability to corroborate, I assumed it was like an airline
underbooks a flight
"suffers a mechanical issue".
Tuesday: invasion, capitulation, and fun
More disaster
Tuesday morning a Flying Dutchman-like apparition loomed large in the fog bank. In my mind, Paul Revere lit two lanterns and rode a golf cart through the town shouting, "The sea zonies are coming, the sea zonies are coming!" When the ship cleared the fog our worst fears were realized: Carnival.
Boat Shore dive
With the boat dive cancelled, I was confronted with the lose-lose of
either not diving at all or giving money to the dive shop that wouldn't take us out with four
. And I should say, it's entirely possible that their boat actually broke down, but that doesn't change a whole lot. They had three options:
Backup plan: "Hey, uh, our boat broke down, we have a backup because it's high season on the island with the best diving in California." Or, "Yeah our boat breaks all the time (you can trust our dive gear though) but that's okay, we'll audible to a short jeep drive to a couple of dive sites nearby."
Token apology: "Hey, uh, our boat broke down, since it really sucks that you had this awesome dive day booked let us offer you a BOGO Casino Point dive. Since we refund you nothing if you come down with covid the day before a dive, we hold ourselves to half that level of responsibility since we prefer to keep your business."
We don't need you: "Ouch, that sucks, here's your money back, want to give it to us for something else?"
I settled on a single shore dive at Casino Point since it was too short notice to look into the one other dive shop in Avalon.
With that saltiness out of the way, the dive was awesome.
As I mentioned, the kelp forests in Catalina are quite dense,
giving divers the feeling of exploring a jungle
. On the minus side, for guided dives it slows things down quite a bit.
The water was warm, the vis was great, there were tons of fish to see.
Shane
found
a huge sea bass
. Alas, we couldn't get a shot with a person for scale. (Above and below: "_crr*" mine, "shne_*"
Shane
's).
Side note: I auto-levelsed all of Shane's photos since he hasn't gotten to postprocessing them yet.
Final thoughts
The Sunday-Wednesday itinerary was much nicer than a weekend, though the cruise ship brought us a small taste of weekend crowds.
The rustic-but-updated hotels were just fine, though perhaps a vacation rental would allow for more socializing during the downtime.
How does Catalina compare to Hawaii, in terms of travel time? I crunched the numbers, it took us 4.5 hours door-to-door for the Catalina trip. Hawaii is about 8.5 hours (depending on the last driving leg), though an hour or so could be shaved with an airport dropoff rather than parking (carseats, amirite?). Hawaii is, well, way better. But for an islandy experience and great diving, Catalina isn't a bad option.