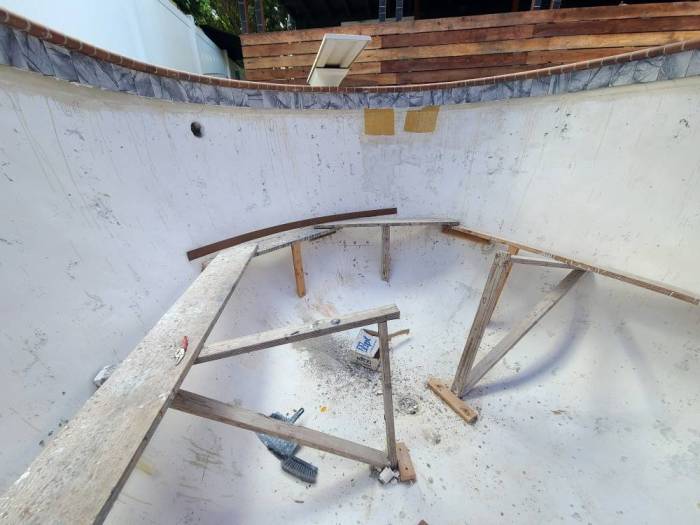 I had my pool fiberglassed.
Prologue
My pool wasn't in the best shape when I closed on the house. Since I didn't have a huge budget,
the most cost-effective solution was to drain, prep, epoxy, and fill
.
Going in, I knew
I'd get about five years out of the epoxy
. That seemed fine, particularly since that's the normal cadence for a refill. So I epoxied in
2008
,
2014
, and
2017
.
When 2023 rolled around, I had
the usual delamination but with more missing chunks of gunite than normal
. And a few cracks of unknown severity.
Resurfacing
A few years ago
Erik
got some quotes for his pool. They said plaster is an option but that fiberglass is the most robust retrofit surface (like a 25 year warranty). My quote came in just north of $25k, apparently covid/supply chain/inflation/job market/etc had resulted in a $5k across the board price hike.
Refilling instructions
1.) Clean pool/spa filter.
2.) Add "Stain Treat" by United Chemical (800) 524-5550 or Hasa "Super Stain Out" (661)
259-5848 or a similar product. Distribute evenly throughout the pool. Leave the
pump off for 12 to 24 hours We find that the recommended products give the best
results to inhibit staining most importantly during start-up (Use only in white pools/spas).
3.) Adjust the PH to 7.6 then turn on the filtration pump to circulate the water.
4.) Dissolve 5 to 10 pounds of conditioner (Depending on the size of your pool/spa) and
deliver it through the skimmer. Conditioner dissolves best in warm water.
5.) Add chlorine. The use of three-inch tabs in a floater introduces the chlorine slowly.
Maintain with liquid and a few tabs. Most tabs contain acid and will lower your pH.
6.) After five days, adjust water chemistry. Take a sample of the water to
a local pool store with water testing capability or call your Pool Tech. Have the water
analyzed for the four chemicals listed above. Add the appropriate chemicals needed to
balance the water.

YEARLY MAINTENANCE: Use "Sea-Klear" by Vanson (888) 282-6766, 4 in 1 clarifier twice a
year for a brighter pool/spa. Use "Stain Treat" or "Super Stain Out" when chlorine level is
under 1.0 twice a year as a preventative measures against metal discoloration of your
Fiberglass surface (Use only in white pools/spas). For rust stain removal use a combination
of "Stain Treat" and a Plaster Stain Eraser".

Remember, your new surface is INERT. When adding chemicals to the pool/spa you are
treating the water, not the surface. If algae appear your Fiberglass surface, it is because
on your water is not properly balanced. Once the algae are killed and the water is balanced, you
can brush it away. Please note chlorine attacks all foreign matter in the water and then
dissipates. After storms, hot weather, or high use, it may be necessary to shock the pool/spa
(Add twice the amount of chlorine) to kill foreign matter and keep chlorine level in the proper
range.