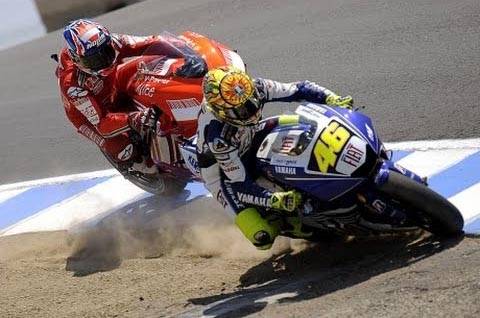 And what a day.
F1 Hockenheim
Hard to say it was technically a great race, but about thirty laps in, Timo Glock certainly sparked
a wave of drama
. He showed everyone in
spectacular fashion
that F1 cars don't take too well to driving off tarmac - rumble strips included. The ensuing safety car nullified Hamilton's gargantuan lead and, on account of creative pit strategy, the Brit had to regain the lead from fifth.
More artificial drama at Glock's hands included Piquet's run at the checkered, owing to a fortuitous pit as the Toyota spun into the barrier. It was certainly entertaining to watch Hamilton on a
ten lap charge to regain first
. And the scandal of Kovalainen's yield to the faster McLaren - a team that purportedly issues no orders.
Superbike Brno
Standard operations here. Two races with great battles, lots of lead changes, Bayliss!
MotoGP Laguna Seca
The Laguna race featured the
finest battle
so far this year, even if it was resolved prematurely. It's too bad Hayden couldn't compete and Hopkins was out, but the AMA wildcards did pretty well.
Check out 1:06... There's a much better replay out there somewhere showing an opposite angle.
Rossi
:
| | |
| --- | --- |
| | 'The Corkscrew was a great overtaking spot. Sometimes it's possible to make a mistake there, but the gravel had good grip.' |