Tuesday
A couple days after the GBES adventure,
Jessica
and I left to attend Kris's
wedding in Maui
. We arrived at lunchtime amidst a torrent of rain, weather that happily did not return that week. We hung around Kahului, waiting to pick up the parents and brother from their later flight. The rain kept us inside the rental car, so we
drove around the very unscenic airport area
, stopping briefly to check out a beach that surprisingly had some sea turtles doing the egg laying thing.
Later on that night we made it to the awesome house in the hills above Lahaina. Having a 07:30 dive trip the next day, we hit the sack early.
Wednesday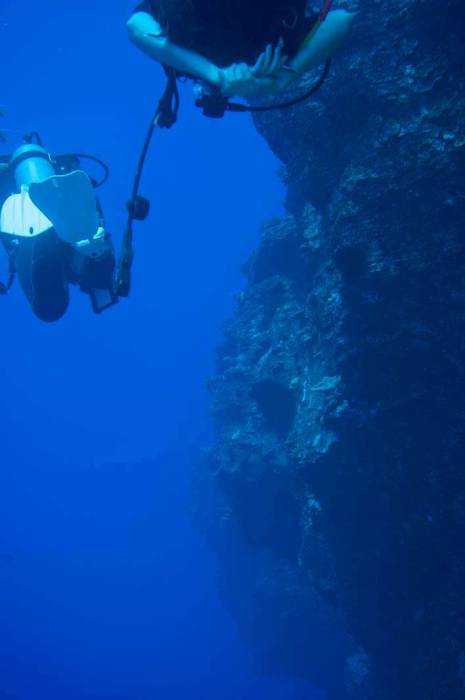 Time zones worked well for us and we showed up in plenty of time for the
Maui Dive Shop charter
. It was a pretty full boat, meaning lots of divers and a rather extensive check in. The boat ride out to Molokini brought an unexpected surprise - it was (humpback) whale breeding/calving season. This was apparently known to everyone in the world except me. And there weren't just a few, looking at the Haleakala silhouette against the sunrise we could make out a spout, a tail, or a breaching whale at intervals of mere seconds.
The dives were pretty standard - warm water, no thermocline, lots of fish/eels/lobsters. I was kind of hoping for a bit more from the Molokini backwall, though maybe more vis would have helped. Also there wasn't much of a drift - I actually had to put work into the dive. That said,
hearing the whales underwater made for an amazing soundtrack
.
That night after wanting desparately to fall asleep in the early evening I drove back into Kahalui to pick up
Jon
and
Tori
.
Thursday
Thursday was the wedding - a cozy beach affair down near Wailea. After that we had a little bit of time before the afternoon reception/cruise kicked off, so we posted up at Beach Bums BBQ at Maalaea Harbor. It looked pretty tourist trappy, but had amazing
pulled pork fries
.
After appetizers, we enjoyed the
chartered snorkel
and whale watch followed by an afterparty at the Lahaina house.
Friday

Friday morning was pretty lazy, we just had to make our 11:30 reservation at Mama's Fish House. From there we
headed up Haleakala
because I said it was
super friggin epic
. Of course it was cloudy, cold, and rainy so everyone got mad at me. Still, the views in the clouds and on the drive down were pretty good. Also snow!
We stopped by a distillery on our way back. Though we missed the last tour, they had a nice lawn with a soccer ball.
Saturday
Jessica
had booked us a
dedicated whale watching trip
on Saturday morning out of Lahaina. We were pretty happy to not have to drive around the island for this one although I thought I'd seen my share of whales. Being a super-touristy affair, this one had the nicest boat and those cool catamaran nets to sit on. This one even had a "whale expert" that had to narrate the whole journey, he made hearing my third boat safety briefing in four days seem pleasant by comparison.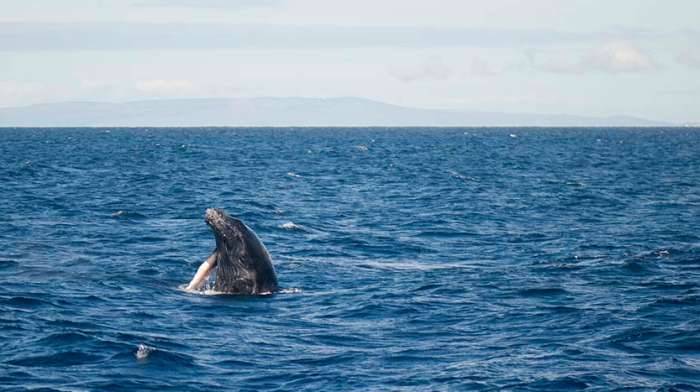 Needless to say, the captain quickly spotted a mother and calf (and vice versa). We motored over to them and cut the engines. The whales were curious enough to
swim around and underneath the boat
, giving us some spectacular views.
Chrissy
and I had been
on a mission to play some volleyball
, so that afternoon Saturday we made the journey to check out each of the
Kamaole beach parks
for a volleyball court rumored on the Internet. As we were about to give up, we found the court at Kam I. We got a couple of games in before the locals showed up and politely asked to challenge. We considered trying to defend, but since they ended up playing 5-on-5 it's probably better that we opted to do some ocean time.
Sunday
Sunday, Jon and I rented gear from Maui Diving in Lahaina, and then Snorkel Bob's since the other place was out of dive flags. Our first shore dive was
Mala Pier
, a fairly shallow trip down the semi-artificial reef created by the ruined pier. They were quite a few turtles and the usual reef fare. The collapsed pylons form quite a few swim-throughs that
Jon
took full advantage of.
Adding this to the list of underwater housing issues: when a control arm
switches focus to manual
during assembly. Ugh.
After Mala, we drove a few miles south to the ruins of a military base near Leoda's pie shop. The kick out was a bit treacherous as there was shallow reef pretty much everywhere, and a rocky entry onto waves everywhere else. Rather than follow the reef, we headed outward down the sandy ledge that dropped to 60' and kept going. Instead of the fish skyscrapers of the pier, we had little suburb outcroppings of coral in the sand. And again, lots of whalesong.
Monday
Monday morning we headed up to the touristy but nice
Napili cove
. Regrettably,
Tori
and
Chrissy
rented SUPs to mix in with the snorkeling and swimming. After a few hours of water time, we stopped by Kohola brewery for some ales and the meme version of Cards Against Humanity. Then burgers at the house with the newlyweds and family.
Tuesday
Tuesday morning I got my last swim in, then we headed back to the airport with a brief stop at
Da Kitchen
for insanely large portions of fried spam and katsu chicken and ramen.
Jon
made a video, I've rehosted it with the audio track removed (so watch this while humming Here Comes the Sun):