Friday morning we had pastries and coffee at the town's boulangerie and decided to start the day with a hike. Gmaps told us there was a natural park,
Sentier Fenouillet
just a few km east.
There was off-road parking and trails that ran to the cliffs and down to the beach. The chill weather was nice for hiking, and since it was April
everything was in bloom
.
The coast view was nice, we checked that out and then headed down to the beach.
The beach had road access, but we only had to share the sandy shore with a family that was leaving and a few teenagers that were arriving.
I wasn't going to leave the Med without a short swim, so I waded a bit and then dove into the clear water.
After the kids down the beach did the same,
Jessica
decided that with a little Belgian courage she would too.
The beach felt quite a bit warmer after that. We hung out some and finished the not-too-undrinkable Belgian.
After a short hike back to the car, we drove the nearby Cavalaire Sur Mer embarcadero and stopped in at the popular-looking
Petite Creperie
. We were not disappointed.
Back at the hotel, I looked into kayak rentals from the restaurant/shop on the beach. The staff told me that they didn't have any boats pulled out of storage, but would have them the following day.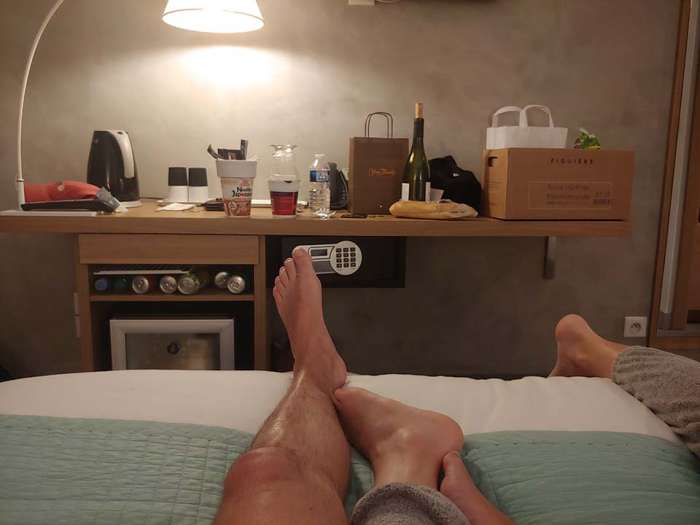 We rounded out the evening with a stroll down Le Battier and dinner at
Maurin des Maures
.