Derrick
,
Jon
, and I went to Whistler this year.
Oakland on the way up, San Jose on the way back, Seattle to Whistler by car. It was lengthy travel, but generally painless.
Shasta and Rainier provided some
neat views
on the flight up,
Fire Emblem
provided the entertainment.
Going with snowboarders inevitably means most of the trip is spent
waiting for them to finish click-click-clicking
.
On the flip side, they were
above average in the sending it department
. Since I didn't bring the SLR and only have a couple cell phone photos, a not-at-all-sending-it photo will have to suffice until
Jon
is done editing the trip video. Update: here it is.
The
snow just about covered the spectrum
: some two-day-old powder at the top, lots of groomers, hard chunky ungroomed snow, and ice near the (probably rained on) base of the mountain. Oh also rocks at Blackcomb - lots of rocks.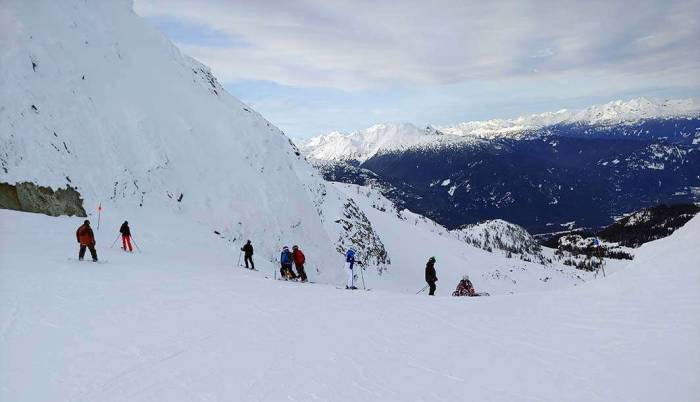 Sunday had light crowds in the morning and then 10-15 minute waits on every lift starting around 11. Word on the gondola was that
Saturday was a mess because of crowds and wind-related lift closures
. Monday we were able to ski onto every lift except the sunny side of Blackcomb. I guess Whistler is the Big Bear or Mammoth of Vancouver so it's best to avoid it on weekends. Unlike Big Bear and Mammoth, all the lifts at Whistler have a blue (or easier) track down, so there's no area that is immune to crowding.
The inter-mountain gondola was a trip. A
couple miles of cable
with a middle section that has no support towers for probably half that distance, all suspended far above the valley. I don't think I'd go near that thing in a gentle breeze - also Blackcomb was pretty mediocre because most of it was in constant shade.
Despite a few runs at the terrain park, the closest thing to an incident came when Derrick directed us down
a gulley run
(okay this is one of our favorite things). In contrast to some of the great creek runs at Kirkwood, this one had very little room to maneuver (or shed speed) and lots of obstacles. After giving the run a chance,
Derrick
and
Jon
hiked out like quitter snowboarders.
I
pressed on until the few tracks dispersed
and eventually turned to vague bootprints. Uh oh. The trees became thick and the slope was steep downhill on all sides. Google maps wasn't a lot of help other than to tell me I was not far from the piste, but below it and across stream from it. Some kiwi snowboarders arrived shortly thereafter and we decided to climb down into the creek and then back up. It wasn't pleasant, but it worked.
While it's mostly uninteresting blue groomers, the
peak to creek run
is a neat 3.5 mile/5000' challenge, particularly if you try to do it all in one go.
Somehow even with all the
volleyball
, skiing was pretty harsh on the quads. Because our AirBnB complex didn't have a functional hot tub, there was just irish coffee.
We spent the night before our flight south in Washington, Bok a Bok was mighty tasty after a long ski day and drive.
Molly throw