I try out a new kid carrier, do some data entry, and slay my first Elden Ring dragon.
A review
I mostly stick to video game and ETF reviews, but this baby backpack is worth a shout out. It's something we probably wouldn't own were it not for
Connie
, so I'm glad she's so outdoorsy. Here's why
I like it more than the stroller
:
It's less work than pushing a stroller.
It can obviously go more places than something with wheels.
It seems like it'll travel a lot better.
Dani likes stroller walks but sometimes gets restless. So far, walks in the pack have been one of her favorite activities. They're up there with her laundry basket flying car.
I'm not going to pretend I've done a model comparison or anything. But since CS did her homework, here's what she had to say:
Connie
Omg! Take a look at how happy Dani is going on a backpack ride! So cute.

Aw, reminds me of my kiddos. I miss the baby stage! We tried out all the other kid backpack carriers at REI, the Osprey, Dueter, Kelty, etc. The kid test was to put them in it, and see if they would cry. Haha. They cried on all of them, except for this one! This was the only backpack that the kids were happy to go into. And it's a plus not to have the kick stand. That adds extra bulk and clunk.

So glad to see you guys enjoying it! Dani reconfirms this is the best carrier. Haha. Now go get some baby hiking in!
Kilroy retrofits and upgrades
Alt text for all, eventually
| | |
| --- | --- |
| Me | Last year I started using alt text for images, but hadn't propagated that to thumbnails or the slideshow pages found by clicking the '[+]' next to each month. Thumbnails and slideshow images now have alt text. |
Well, slideshow pages *support* alt text
. I have twenty years of unlabeled images that *could* be labeled. After adding alt text to a few months worth of images I decided to (a) stick with it and (b) code up a GUI to make it not a text editor + file browser + web browser workflow.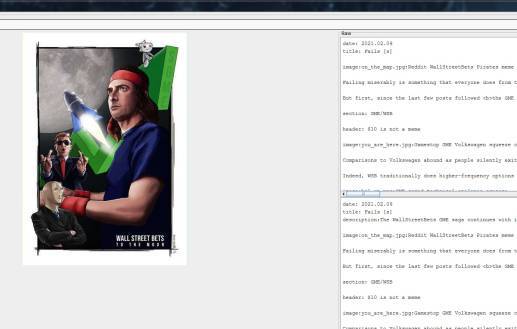 Pretty ugly, pretty spartan (lmao callback). But it does what it needs to:
Finds posts/months with the old gallery format.
Prompts me to enter an RSS feed description (also a new feature in need of retrofit).
Presents each thumbnail/gallery image item in sequence.
Takes alt text input.
Shows the markup substitutions in real time.
Dumps the updated files to a list for batch upload.
This all
came together pretty quickly thanks to having a static web site and a code base
to manage it. It does entire months at a time, so I can chip away at the backlog while having intermediate results.
Post preview and lists
2014.02.13

Mahalopoints

Ty invited me out to Oahu in 2014. The fun started as soon as I got off the plane; we drove straight to the north shore to catch the Pipeline Pro. I hung out in Honolulu with the grad students and somehow got roped into judging a local science faire. Then I hopped over to Kauai to hike the incredible Kalalau trail on the Na Pali coast.
While looking at my
lists metapage
, I found myself quite bothered by the (earmuffs,
Jon
) Excel-like table listing links. So I created
a new markup element for showing a thumbnail, title, and summary of another post
. It's usable in any post (e.g. above), though a simple hyperlink does the job in most cases.
Landing page
While I was figuring out why my kilroy/index.html file was getting written to /index.html, I created a
minimal landing page
.
Dragons
J and I
meandered back to the early-game swamps and took on Agheel
(pictured below, above is Decaying Ekzykes who we ran away from). Also I swapped out my gear for Royal Remains. I'm not sure if it's better or worse for a dex-samurai, but it looks intimidating.