AAAs
Assassin's Creed looked like Assassin's Creed. You get a bird this time. It lovely though.
Wha? Naboo fighter in Battlefront? Cooool. Same sort of deal, developers seem to be getting this gen of consoles really dialed in graphics-wise. But, y'know, innovation would be nice.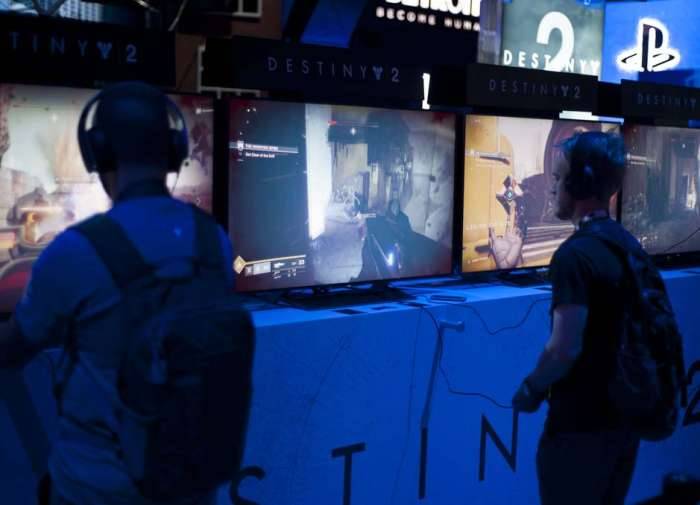 I wonder how much of a game they will release this time.
Maybe more of a AA+ title, Far Cry 5 looked like the new installment you would expect. The demo was fairly limited, but apparently it introduces a companion.
Gran Turismo looks as good as Forza, Project Cars, etc. It may also be out this decade.
Wolfenstein seems to have gone all Fallout.
The Nintendo area was basically Comiccon the entire day. I didn't even try to get through that.
Smaller guys
Atlus's offerings looked like pretty generic rpg material. Ugh, another Etrian Odyssey.
Square seems to have gone full Disney with Final Fantasy. There's even a card game!
The vibe
Everyone has vr. Bethesda was hitting it the hardest. Oculus was there. Sony, of course. But I was surprised to see a lot of startups showcasing their vr platform.
One of them seemed to put the player in a weird world of graphical effects. Just adjacent was some trippy artwork (related???).
Where?
There were some titles I expected or got press, but weren't accessible from the conference floor. This is not atypical:
Beyond Good and Evil
Metroid Prime
Borderlands
Shadow of the Colossus
[Half-Life]
Lolwtf
I need a shirt that says both that I am an ass and that I am a dork.
Horizon?
Wew.